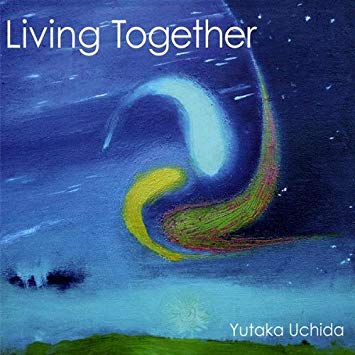 Yutaka Uchida

"Living Together"
www.Yutaka Uchida.com
CDBaby.com/Artist/YutakaUchida
CD review by Roger-Z (02/14/10)
Appeared in More Sugar, March 2010, P. 23A
"Jazz without the blues." "Mysterious, inspirational, joyous, soothing, with a New Age sensibility." Artists love quotable blurbs. Well how about this? "I just love 'Living Together'." The record sounds like a cross between Andreas Vollenweider, Return to Forever, Santana of "Caravanserai," and John Coltrane of "My Favorite Things." The band consists of Yutaka Uchida (drums), Ben Sher (guitar), Eishin Nose (keyboards), James Cammack (electric bass), Sean Nowell (tenor and soprano sax), George Dulin (acoustic piano), and Danny Zanker (acoustic bass). Drummer Yutaka Uchida composed all of the tunes.
The rhythmic diversity of the tracks prevents the listener from ever getting bored. "Mother Sea" begins with what sounds like a Viking horn drifting out of the mist. It's really a guitar! The instrumental soon coalesces into a pleasing, funk groove based on an irresistible piano figure. I can't say enough about guitarist Ben Sher. He succeeds at an impossible task. He dials up the perfect cross between jazz and rock guitar tone -- not too plinky and not too distorted. The whole band cooks while improvising. Both Sher and Nose turn in ear-catching solos. "Beyond the Horizon" grooves to a whole other vibe, namely that of Vince Guaraldi's "Christmas Time Is Here." It starts with an acoustic bass solo by Danny Zanker and then the rest of the band enters with Sean Nowell playing the head on soprano sax sounding so positive and uplifting. Drummer Yutaka Uchida gently gooses the rhythm section and pushes Nowell to extreme heights. Pianist George Dulin adds an Allman Brothers "Jessica" touch.
Frankly, "Living Together" sounds like a greatest hits package. No filler here. Continuing on our journey, "Cheers" chugs along to a "Soul Trane" groove, and features jazz guitar playing over Steely Dan chord progressions. "Dryads" floats on a gossamer cloud of keyboards underpinned by a midnight soul groove. "Dance While You're Still Here" features a hypnotic guitar figure set to a latin beat. "Truly Untrue" would feel at home on John Coltrane's "Giant Step" record. "Peaceful Eyes" opens with an electric bass solo over synthesizer padding. "Torrent of Lava" aptly describes the explosion of fierce fusion playing. Larry Coryell step aside. Ben Sher has invaded! Eishin Nose gently lowers, than raises the level with a tasteful Rhodes synthesizer solo. Dynamics abound -- always a good sign. Suddenly, James Cammack launches into a heavy metal fuzz bass line that allows Uchida to break out in a drum solo over the figure. "My Old Faithful" features Sean Nowell's saxophones harmonizing to sound amazingly like a violin. The title track, "Living Together," finds Nowell playing an inspired melody over a cross between gospel and jazz chords. Danny Zanker aquits himself admirably with a beautiful bass solo.
"Living Together" manages to encapsulate all the ups and downs of human existence. And it does so in a positive and spiritual way. The CD abounds with dynamics and improvisation. This record will make a jazz lover of anyone who listens to it. Five out of five stars!
©2010 Roger-Z