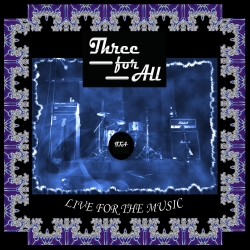 Three for All

"Live for the Music"
www.ThreeForAll.net
www.Shop.ThreeForAll.net
CD review by Roger-Z (12/20/13)

Mix the power, boogie, and bombast of Seventies rock with Eighties guitar shredding and you get a little taste of the hard-rocking "Three for All." These men reek of sex, leather, and aggression. The group consists of Anthony Fragnito (lead vocals, bass), Carl Fragnito (guitar), and Steve Budgie Werner (drums, vocals). Anthony Fragnito and brother Carl had success in Westchester original bands Black Lace and Damn Cheetah. Steve Werner held drum duties with Ace Frehly, Leslie West, Richie Scarlet, and Hindenberg. The bassist and drummer still perform with Snappahead. Except for one cover, all tunes were written by Anthony Fragnito. Carl Fragnito co-wrote two of them. Steve Werner engineered and produced the record.
These guys do it old school. The subject matter sticks mostly to partying and love. They recorded much of the album live in the studio and actually managed to bottle lightning! Anthony Fragnito and Steve Werner serve as lock and key to the groove. Carl Fragnito alternates between completing the pocket and floating above it like a bumble bee ready to sting. The vocal harmonies of Anthony Fragnito and Werner add the perfect sweetening to the mix.
So many great tunes to pick from. The Zeppelin-style riffing of "All I Want" drips with lust. "Cause I know what I want. And I know what I need. And I see what you got. And you make me believe... All I want is you." The southern-rock tinged "Someone" deals with the search for new love. "Is there someone out there? Is there someone who needs love? Is there someone who could use a little shove." Another great Zeppelinesque riff kicks off "Goin' Down." "I don't know what it takes to keep love. But I feel I'm going down." The slide guitar adds the perfect "declining" touch. "Funkin' Now" serves as Three for All's party anthem. A maddening combination of funk and rock, this number definitely gets the butts out of the seat. A screamingly original guitar solo. The slinky "Vampire Love" provides exactly the kind of detail you wish it would. Now I hear some knocking on my back door. It must be you coming back for more. I feel you crawling on me like a black cat. Searching for sex and blood in the night." Finally, the "bonus track" consists of a melding of Edgar Winter's "Frankenstein" and Focus' "Hocus Pocus." I've seen the original groups perform these songs and Three for All does them proud. What a great idea for a medley!
Three for All's "Live for the Music" provides a desperately needed fix for the hard-rock jones. They combine power, rage, lust, and love in a package you can't resist.
©2013 Roger-Z