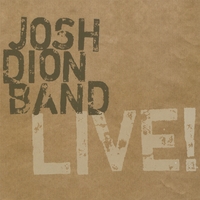 Josh Dion plays the drums and sings with a preternatural power. His powerful baritone and syncopated drums drive this album home with an overwhelming force that both endears and overwhelms. The band, including Pat Firth (keys), Dan Hindman (guitar), Brian Killeen (bass), and Sara Versprille (vocals), met while students at William Paterson University in NJ. They demonstrate a unique vision on this crystal clear live recording. And that's not easy to do in today's era of musical puppets.
It's not the subject matter (l'amour) that distinguishes this album, but rather the intensity and dynamics. Dion proves a master at building and releasing tension on his drum kit. While singing, he spits out intensely syncopated verses that set up powerful choruses sung in harmony with Versprille. With Dion as the acknowledged alpha, all other members play nice. No overplaying here, though the temptation must be intense. Rather, everybody sits back in the pocket adding tasteful flourishes, letting Dion drive the train.
Josh Dion and band wrote all songs except Stevie Wonder's "Boogie On Reggae Woman" and Curtis Mayfield's "Let's Do It Again." Each tune features strong emotion and a hooky chorus. Normally, I would focus on a few songs but this crop screams unfair at the suggestion. Many of these tunes serve as great jam vehicles: "Take the Time," "Movin' On," and "Birdwalker." Love inspired these songs and like the sweetest passion, the nuances delight. Imagine a musical combination of Stevie Wonder, Phil Collins, and the Grateful Dead. The tunes twist and turn, peak and burn, melt and flow, coalescing diamond hard. Plenty of room for solos, especially in "Birdwalker" which features a breakdown by Dion and the Claptonesque guitar of Hindman." Speaking of solos, check out the funky bass on "Ugly." Sarah Versprille gets her turn in the spotlight (and love light) on the suggestive, "Do It Again." Other standouts include the determined "Make Her My Girl" and the brutally nasty blues, "Stop Pretending."
The Josh Dion band tears it up live. They bring it all to the dance -- creation, inspiration, improvisation, and execution. Pull "motive" out of "locomotive" and you get an idea of how this band will run right over you.
©2008 Roger-Z