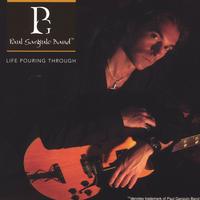 Paul Gargiulo Band
"Life Pouring Through"
CD review by Roger-Z (9/1/04)
Led by the photogenic Paul Gargiulo, this quirky trio features an "outside-the-box" combination of blues, swing, and punk-rock attitude. Take one part garage-rock rhythm section (Mike Plummer on bass and Dan Colluccio on drums) and mix with charismatic lead vocals and thin, semi-acoustic guitar (Paul Gargiulo). Add 13 years of steady gigging, stir thoroughly, and listen to the studio-album result -- "Life Pouring Through."
The quick fingers of Mr. Gargiulo goose a number of songs with their feathery flights of fancy -- most notably "Let Yourself Be," a mid-tempo shuffle, and "Lone Traveler," a fiery, slow blues. The urgent slide guitar of "Vacation Getaway" kidnaps the listener with its undertow groove. The slightly incongruous lyrics make this song perfect for a travel agency commercial. "Sunset, Sunrise" and "I See Home Real Soon" stand out as gentle, romantic ballads featuring sophisticated chord progressions and soothing, Hawaiian-sounding guitar. The forceful, vocal attack evident on most of the CD gives way to an unexpected, irresistible, soft touch on "I See Home Real Soon."
If you enjoy your blues served up "modern" style, with plenty of jump, snarl, and good looks, then open yourself up to "Life Pouring Through."
©2004 Roger-Z