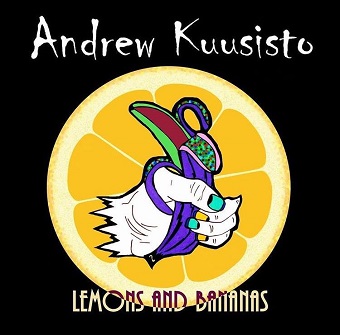 Andrew Kuusisto

"Lemons and Bananas"
www.AndrewKuusisto.com
itunes.apple.com/us/album/lemons-and-bananas-ep/id1192614790
CD review by Roger Zee (01/22/17)

On his debut release, "Lemons and Bananas," Andrew Kuusisto has created an epic, prog-rock suite that combines elements of Genesis, King Crimson, The Beatles, The Kinks, The Who, Pink Floyd, and Queensryche. It details one man's quest for love and redemption as he battles his insecurities and inner demons. Kuusisto eschews a linear plot and instead grabs the listener with Ray Davies-like vocals and seemingly random hooks that materialize almost out of nowhere. Musicians include Andrew Kuusisto (vocals, guitar, bass, keys); Marc Vonem and Emma Hart (vocals); Adam Kestler, Ed Cusati, and Paul Maddison (guitar); Andy Burton and Steven Wright-Mark (keys); and Kenny Shaw and Jeff Hatcher (drums).
Our hero finds the path to love and happiness fraught with bumps, cracks, and potholes. On the opening track, "Lime," he first fixates on his love while declaring, "She's seeking' solace where it lies. I'm going surfing in her eyes." Though he doesn't impress her much right out of the gate, he attempts a comeback on "Loving Anyway." Singing falsetto on the chorus, "I'm gonna fall in loving anyway... I'm gonna fall on my face when I trip on the lace of my shoes and that's when you'll see me true." The drama continues on "Grasshopper." "In your time of need and your time of treasure, I'll be here to bleed for both, equal measure." Much like the "Underture" on The Who's "Tommy" and numerous acoustic passages on Pink Floyd records, Kuusisto lets us breathe easy on the instrumental "Green Tea" with only occasional hints of disharmony and tension.
The endgame takes shape after the brief interlude. The big bang boom of "Moon Most Max" opens with a desperate plea, "Come back to me, mama. You've got elixir that I need. Wanton and stray." The saga wraps up with "Falling Blue." No easy Hollywood ending here. "The fly's attracted to the Bane. Reactive brain is flying high. The rain is seeping through the Wall... Falling Blue." The track finishes with an epic, wall-of-harmony chorus overrun with a wailing lead guitar that purposefully ventures off-track with intermittent discord.
Like many of my favorite records, "Lemons and Bananas" took a lot of listening for me to get into it. But this beautifully crafted and produced CD has left an indelible mark on my soul.
©2017 Roger Zee