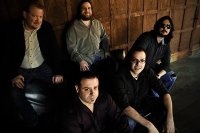 Kung Fu

"Kung Fu"
www.MySpace.com/KungFuTunes
Appeared in More Sugar and CT Sound, September 2010
CD review by Roger-Z (08/15/10)
I picked up Kung Fu's self-titled, three tune EP for free at the merchandise table during their devastating performance at this summer's Bridgeport, CT "Gathering of The Vibes" festival. They blew up the crowd with their over-the-top, incandescent, mostly instrumental set on the intimate "Green Stage." I dub their music "Sk8terboy Mahavishnu" for its highly combustible consolidation of punk, funk, and fusion. Normally, I would expect a band like this to attract a mostly male crowd. But no, how spectacular to gaze on all those tatooed and painted women grooving in the breeze on a gorgeous, July afternoon.
Then again, it's no surprise that these veterans know how to rock the house. Together since 2009, this super group consists of Tim Palmieri (The Breakfast/guitar), Todd Stoops (RAQ/keys), Kris Jensen (Dickey Betts/Jaimoe-sax), David Livolsi (Jazz is Dead/Scofield-bass) and Adrian Tramontano (The Breakfast/drums). On MySpace.com, they cite their influences as "John McLaughlin, Weather Report, Bob Marley, Led Zeppelin, Miles Davis, Return To Forever, Jeff Beck, James Brown, Sly and The Family Stone, Herbie Hancock, Frank Zappa, John Coltrane, Wayne Shorter, Billy Cobham, Jaco, Parliament Funkadelic..."
This is going to sound funny, but I love shaving, brushing my teeth, and showering to this EP. It gives me just the right kick in the ass to get moving in the morning. The band's manager, Josh Kroop, explained the genesis of the record. The group wanted to get something out to the public at The Vibes so they took the three finished tracks from their in-progress album and pressed them especially for this event. Kung Fu erupts on the Indian themed Chakrabary Overdrive -- an explosive combination of Weather Report and Mahavishnum Orchestra. The track features seven and a half minutes of raging synthesizer, guitar, and sax solos -- not much different from the other two cuts! I love the beginning of the guitar solo where Palmieri hits a double-stop and lets it slowly build into a dissonant chime. They mellow down next with the gospel sound of "Lilliputians." But inevitably, that boils over as well. Jensen's soprano sax serves as the "secret" ingredient. A simple, James Brown funk chord propels K-Jamby-Ala. The scrumptious horn riff functions as the "special" sauce. Once again, the song functions mainly as a playground for the soloists who bring orgasm after orgasm to the field.
I feel bad for not commenting more on the individual solos. But they're all so good! These guys bring intellect as well as feel to their music. On their opening song at The Vibes, keyboardist Stoops got so excited he kept popping up out of his seat. This year's festival proved that a lot of young people still crave exciting, creative, jam bands. Keep an eye out for Kung Fu's debut release. They will kick your ass -- and you will love it!
©2010 Roger-Z