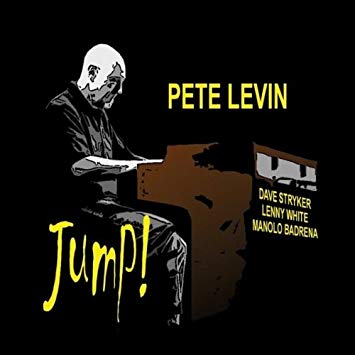 Pete Levin

"Jump!"
www.PeteLevin.com
CD Baby
CD review by Roger-Z (04/27/11) appeared in "More Sugar" and "CT Sound," June 2011
Pete Levin funked up. That's right. He took your father's organ trio and funked it up on his new CD, "Jump!" The trio (really a quartet) consists of Pete Levin (organ), Dave Stryker (guitar), Lenny White (drums), and Manolo Badren (percussion). Joe Beck (guitar) and Danny Gottlieb (drums) appear on "Honeysuckle Rose."
Levin initially gained fame playing synthesizer with artists such as Carly Simon, Paul Simon, Annie Lenox, Gill Evans, Miles Davis,and John Scofield. In 2007, he became enchanted with the organ trio and since then has released a number of "back to the roots" albums including "Deacon Blues" and "Certified Organic." "Jump!" continues that tradition with a new set of players.
The organ trio (with added percussion) affords the players an incredible amount of room to improvise. The tunes follow a simple format. Pete Levin (who composed half of the record) lays out the head and then they're off to the races! The songs divide up by rhythm -- funk, swing, latin, and ballad. My favorites include the title track "Jump!," the feisty "The Big Dog Is Always Right," the uplifting "Talk to the Animals," the Latin "Candido," and the jaunty "Honeysuckle Rose."
With literally thousands of pull tabs on the Hammond organ, I always wondered how Mr. Levin came up with the right settings. He seems to have found one that he likes and maintains it throughout the record. His tone blends perfectly with the bass and drum. Produced by Levin, none of the instruments invade the others' frequencies. Let's also not forget Mr. Levin both solos and plays left-hand bass at the same time. "Exclamation!" captures that perfectly.
Guitarist Dave Stryker presents an interesting dichotomy. He plays with a "Strat" feel but a "Jumbo" jazz tone. His style includes many elements in common with, believe it or not, heavy metal. They both utilize ferociously fast and hypnotically intricate lines. Witness the title track.
Lenny White (of "Return to Forever" fame) propels the tunes with a delicate but urgent proficiency. He specializes in prodding the soloist without intruding. White plays ingriguingly behind the beat.
Pete Levin presents "Jump!" as an alternative to "smooth jazz." If you enjoy a lively melody, a crisp rhythm, and lots of improvisation, you will love this record. PS: Levin deserves a Wikipedia entry!
©2011 Roger-Z