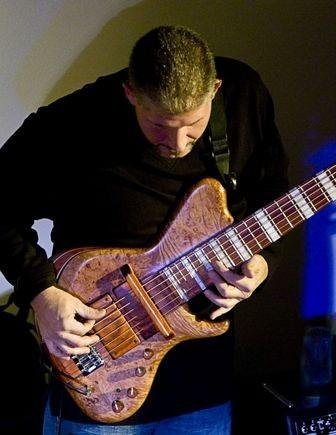 Kip Sophos

"Jam Master Kip Sophos"
www.Facebook.com/Kip.Sophos

Tuesday, 9:30P @ Pete's Saloon 914-592-9849
8 W. Main St. Elmsford, NY 10523
Interview by Roger-Z (07/11/12)
Roger-Z: Tell me about your jazz jam.
Kip Sophos: I co-host the jazz jam at Pete's Saloon on Tuesday nights from 9:30 - 1:00P with Thierry Arpino and Robert Aries. It's basically a trio gig but†we do have guest artists two or three times a month like John Tropea, Gil Parris, Bill Evans, Bob Franscesini, Adam Nussbaum, and Harvie S. We run a mostly instrumental jam but vocalists do occasionally sit in. We focus on providing a place for professional and aspiring professionals to really hone/learn their craft in a very realistic/humble environment. (Professional meaning people who make their living doing this, not just getting paid to play.) It's definitely not a session for showcasing single players or bands. It's about personal growth for musicians who pursue excellence, as well as providing interesting, progressive, improvised music for Pete's Saloon.
Roger-Z: How do you put together your jammers -- first come first serve, musical compatibility, ability?
Kip Sophos: We try to run this jam on a first come, first serve basis. Occasionally, we do have to make exceptions. It's very common at this session for me to look into the audience and see totally seasoned, veteran players like Adam Nussbaum, Jay Azzolina, Joel Rosenblatt, Richie Moralis, and Terry Silverlight either just checking out the music or waiting to play. If any of the more well known guys ask to get up with one of our guests or any other particular players, we try to give them that, but it's not at all uncommon to see them playing with younger, "student" players either.

Roger-Z: How do you balance bringing in the maximum amount of players with eliminating the sub-par?
Kip Sophos: If the house is full of musicians waiting to play, we limit the amount of tunes each person sits in on. When most people come in and see what we're doing here, they instinctively know whether they should play or not. If they feel like it's beyond their abilities, they usually just watch and enjoy a free show. † Once in a while someone will come in and be absolutely not ready to play in this kind of situation. On most of these occasions, one of the pro players will usually talk to them, coach them, and point their learning in the right direction -- basically a free lesson from some amazing musicians!

Roger-Z: What expectations does the club have?
Kip Sophos: I think Pete's expectations are just the same as most clubs. They want to make money. But Pete is a bass player and actually one of my students. He is totally behind this jam! He's been absolutely supportive by providing advertising and extra funds to adequately pay our guest artists as well as keeping it a steady gig for a few years now.

Roger-Z: You build the five and six string basses you play. How can the public purchase one of them?
Kip Sophos: Iíve been building custom four, five, and six string basses since 1984. I've†also done lots of fret work and set-ups. Iíve always focused on the ergonomic playability of an instrument. So my designs are carefully altered to accommodate each individual. If it's easier to play, you will play better! As far as aesthetics are concerned, they're only limited by ones imagination. Inbox me on Facebook.

Roger-Z: You teach a select few "master" bass classes. How can someone sign up for them?
Kip Sophos: My parents are professional musicians. My mother is a pianist/piano teacher and my father was a cellist with the New York Philharmonic and played on countless albums, television shows, movie sound tracks, Broadway shows, jingles, etc. †I've been playing/studying music for my entire life. My experience starts with seventh and eighth grade all county band and includes playing gigs with Michael and Randy Brecker, Gil Parris, Chuck Loeb, Bob James, John Tropea, Nile Rogers, Harvie Mason, Paul Schaffer,†Dave Mann, Bob Mallach, Lew Soloff, Ray Vega, Bob Baldwin, Bobby Rydell, Bernie Williams, et al.
My approach to learning music and playing an instrument has been very regimented and thorough. I've spent countless hours practicing and studying classical as well as jazz music theory/harmony. Also, my gig experience has taught me a wide array of things that can only be learned on the job -- things that no music school or musician who hasn't "been there" would know. †This is exactly how I approach teaching. I like my students to have high expectations for themselves and a true desire to achieve their goals -- a real/true commitment to learning. Inbox me on Facebook.

Roger-Z: How does your black belt in the martial arts affect your playing? How can someone sign up to train with you?
Kip Sophos: Iíve been teaching martial arts since 1981. What I've realized through years of committed teaching/studying is that any endeavor I pursue winds up being the same. It becomes a serious, overall look at myself -- my deficiencies, my strengths, my natural tendencies, my learning patterns, my emotions, my aptitude, my intelligence, etc. (I could go on forever!) So martial arts and music basically provide two different methods for me to learn a huge amount about my self and how to better myself -- something I would never have learned if I didn't strive for excellence. When people truly want to be the best they can be, they undoubtedly will learn more about themselves and that will always help them fine tune their game and come closer to achieving their goals. Inbox me on Facebook.

Roger-Z: Kip, you are one stand up guy!

©2012 Roger-Z