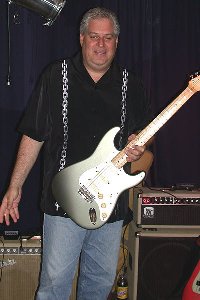 John Federico

"Jam Master Johnny Feds"
www.JohnnyFeds.com

Monday @ The Bayou Restaurant 914-668-2634
580 Gramatan Avenue, Mount Vernon, NY 10552
Interview by Roger-Z (06/12/11) appeared in More Sugar and CT Sound, July 2011
Roger-Z: Which jam do you run -- where, when, type of music?
Johnny Feds: Monday nights at The Bayou, 9pm-12:30am, mostly blues, but open to all kinds of roots music.
Roger-Z: How do you pick your co-hosts for the jams?
Johnny Feds: I have the same players every week except for once a month. Then I bring in musicians that I always wanted to play with or feel will bring new music and people to the jam. My regular band consists of John Elmo Lawson (bass), Dave Schimansky (drums), Fred Lind (keys) and myself (guitar, vocals).
Roger-Z: How do you put together your jammers -- first come first serve, musical compatibility, ability?
Johnny Feds: I skip around the list, mixing and matching ability and compatibility. I make concessions when a band or group of musicians call, email, or ask me that night if they could get put up together and try something they are working on or have a band in the making. I'm more than happy to accomodate them.
Roger-Z: How do you balance bringing in the maximum amount of players with eliminating the sub-par?
Johnny Feds: I always felt my jam was run like "little league." Everybody gets to play. I get everyone up 99% of the time. Sometimes I have to cut it down to 2 songs instead of 3. Other times I'll tell a player, "Listen I owe you one. Next week I'll get you up." Sometmes some really great, top Westchester musicians show up and I'll say wait, we'll do a big set at the end of night. They stick around and the people get treated to an exceptional last performance. So if you are a musician struggling with your abilities, you SHOULD stick around and watch and listen cause it's like a free music lesson from these players.
Roger-Z: What expectations do the clubs have?
Johnny Feds: I'm just guessing on this one, but here goes:
1) That you keep as much of the crowd already there.
2) That the jammers spend a little money.
3) That the jammers don't get in the way of doing business, e.g. being in the way of the wait staff, leaving instruments where they're not suppose to be, or taking a table and not ordering something when the table could be used for other patrons.
4) Extra revenue at the end of the night that would not be there but for the jam.
Roger-Z: Who should sign the list?
Johnny Feds: Everybody who wants to play should sign the list. The host is not a mind reader. The host should greet everyone and visa-versa. Go up to the host and say hello. Tell them if you want to play or not.
©2011 Roger-Z