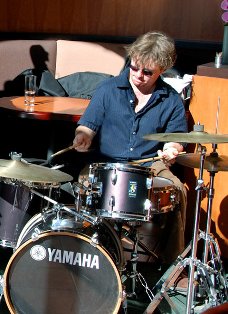 Dave Schimansky

"Jam Master Dave Schimansky"
www.facebook.com/profile.php?id=1509092106

Thursday @ The Duck Inn 914-835-8791
128 W. Boston Post Rd. Mamaroneck, NY 10543
Interview by Roger-Z (07/10/11)
Roger-Z: Which jam do you run -- where, when, type of music?
Dave Schimansky: The Duck Inn Jam is an every-Thursday night get-together hosted by Hank Decora (vocals, guitar), Tommy Sprock (bass, vocals), and myself (drums). We play from 9-12. The house band warms up the night with a 30-40 minute set, then musicians from the area come sign up and sit in. The skill level is usually intermediate to advanced. The jam varies every week, but the energy is usually pretty high.
Roger-Z: How do you put together your jammers -- first come first serve, musical compatibility, ability?
Dave Schimansky: Jammers are generally first-come-first-serve. Sometimes circumstances dictate otherwise -- like someone has to be home early or certain lineups want to work together. There are also some musicians that like to play late, when the crowd is usually fuller. It's usually best for first-time performers to come watch and then talk to someone in the house band about what type of music they wish to play.
Roger-Z: How do you balance bringing in the maximum amount of players with eliminating the sub-par?
Dave Schimansky: I haven't had any problem with sub-par players.
Roger-Z: What expectations do the clubs have?
Dave Schimansky: Management is really happy. They think the music and the energy are great, which is why it works. The locals love it too.

©2011 Roger-Z