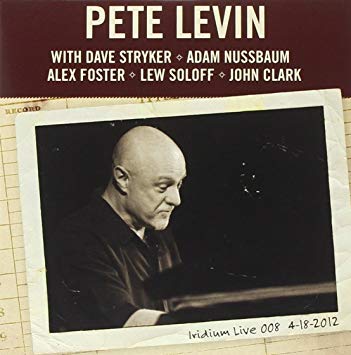 Pete Levin

"Iridium Live 008 4-8-2012"
www.PeteLevin.com
CD Baby
CD review by Roger-Z (05/26/11)
On April 8, 2012, Pete Levin's organ trio received an unexpected surprise when joined onstage at the Iridium by a four piece horn section. The group tossed their planned repertoire and spontaneously launched into a two-set tribute to their former outfit, The Gil Evans Orchestra. The players consisted of Pete Levin (organ), Dave Stryker (guitar), Adam Nussbaum (drums), Alex Foster (sax), Lew Soloff (trumpet), and John Clark (French horn).
I call Pete Levin "all inclusive." He may play jazz, but his music incorporates many elements of rock and blues. This album represents a great starting point for the listener or player who loves roots music but wants to stretch a little. Most of these tunes feature a short "head" and extended soloing. The opening track, "Might Have Been" (written by Levin), embodies this perfectly. The tune begins with the most basic blues riff overlaid by a few simple organ chords. Dave Stryker snakes in with an eerie, distorted, guitar solo sounding like a cross between Santana, Clapton, and John McLaughlin. All of a sudden, the drums kick into overdrive and Alex Foster launches into a ferocious, tenor sax solo. "Shades Beyond," written by Dave Stryker, spotlights a more straight-ahead, driving jazz groove. The tune quickly breaks down into just drums and Stryker who solos with a more "traditional" jazz guitar sound. The keyboard bass leads the rest of the band back in. Then the tune breaks down again into drums and a prolonged sax solo. The Freddie Hubbard tune, "Little Sunflower" features delicious Wes Montgomery style "octave riffing" by Stryker, a beefed-up organ "mugging" by Levin, and a soaring soprano sax "flight" with Alex Foster -- all nimbly propelled by Nussbaum's drumming.
Doug Yoel captured the sound perfectly. You can hear every instrument clear as a bell -- no clutter and plenty of space. The extended soloing continues through the rest of the workout. The group gets down and funky on the collectively written "Back in the Schoolyard." The whole band locks behind Foster's soprano sax solo, only to climax and settle back down for a trumpet flight by Lew Soloff, followed by a delightful French Horn "get down" by John Clark, a "Wah Wah funk out" by Dave Stryker, and some "organosis" by Levin. The jazzy "Little Wing" offers up trumpet and French horn heads, and soloing by all the horns. The final tune, "Old Wine, New Bottles" by Lenny White, starts on the simplest of blues riffs and provides a protracted throw-down for the whole band. Nussbaum's drums slip and slide up and down the beat. Levin's left hand bass slinks up the groove. Together, the drums and bass prep and launch the solos, most notably, an octave delight by Stryker, and a down-home organ pump by Levin.
Pete Levin's "Iridium Live" captures everything that is right about jazz. It features catchy, accessible tunes; exquisite arrangements; spontaneous, improvised solos; and an overall intelligence that casts an inescapable net of well-being over the listener. What a delight!
©2013 Roger-Z