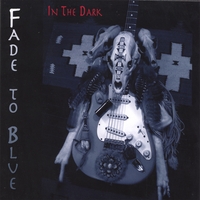 Fade To Blue

"In The Dark"
www.FadeToBlues.org"
CDBaby.com/FadeToBlues
CD review by Roger-Z (11/23/06)
Appeared in More Sugar, December 2006, P. 17B
Spirited survivors of glorious but now defunct blues bands, these veterans put aside their egos to come together and form a blues super-group -- Fade To Blue. Greg McCullough (guitar, slide, vocals) and Dave Anastasia (bass) hail most recently from The Hoodoo Band, the 2004 winner of the Connecticut Blues Society Blues Challenge. Gary Schwartz (drummer) also played with The Hoodoo Band in addition to his work with The Blue Rays. Brian Ready (guitar, vocals) fronted the 7 South Blues Band for fifteen years and performed with a myriad of others including Paul Nelson and The Drifters. Driven by dual lead guitars, Fade To Blue focus squarely on distilling their life experience into original blues compositions -- fourteen on this album! Remember the day of the twenty minute LP?
Putting two formidable guitarists/vocalists (not to mention characters) into one group requires courage, daring, and a dash of humility. Bands littered on the highway of rock attest to the high casualty rate of this endeavor -- The Butterfield Blues Band, The Yardbirds, Buffalo-Springfield, etc. Many times, a group will split into two acrimonious camps and actually sound like two different bands. But the Rock and Roll Hall of Fame can attest to the rewards of this approach -- The Allman Brothers, Crosby, Stills, Nash, and Young, and the mother of them all, The Beatles. The synergy created by Dickie Betts and Duane Allman inspired a whole generation of rockers.
As noted on their web site, the comparison of McCullough to Duane Allman and Ready to Stevie Ray Vaughan remains obvious. But the little touches they add to each others songs create something unique and beautiful. And let's not forget the trading of licks (right from the opening track, "The Worm Turns") and even all out cutting contests ("Goin Back to Texas"). A solo artist avoids crossing swords at any cost.
The two principals sound very different. McCullough plays a Gibson ES-345 and a Les Paul 54 Gold Top through a DRZ MAZ Jr. amp. For slide, he uses a James Trussart Steelcaster. Readys plays a Fender Stratocaster through a Fender Blues Jr. and a Fender Vibrolux Amp. Many tunes find McCullough on slide which provides a nice contrast to Ready's Strat.
McCullough sings in a deep voice cured with the just right amount of age, cigarettes, and tequila. He favors themes that contrast good and evil, happiness and despair, God and the Devil -- with little room for anything in between. My favorites include "Here's Your Hat," a jazzy, flat-tire number in which he gladly shows his pain-in-the-ass girlfriend the door. Contrast that with "Cold Sweat," a jaunty, rocking blues number about finding unexpected lust in a night club. "Nothing Left to Lose" displays absolute, stone-cold, suicidal despair. "You're the One" gives thanks to a lover so good she lights up a room just by walking in!
Ready, on the other hand, does not live in a black and white world. In "Free Man," he feels the pull of another woman and fights desperately to stay true to his relationship. This R&B burner features Ready in a soft, understated, voice. Contrast that with "I Cried and Cried," a Muddy Waters type slow blues, where he roughs up the vocals and puts a burr in his voice. The guitars wail. "Sweet Angel," a straight-ahead shuffle features Sol Schepps on harp. What great tone. "Workin' Blues" showcases the funky side of the band.
And let's not forget the unsung heroes of every band -- the rhythm section of Schwartz and Anastasia. Though unobtrusive, they lay the rock-solid foundation that allows the front men to shine. They also provide a stunning diversity of grooves. Each song gets a custom beat. No ready-made shuffles or slow blues here. Dave Anastasia uses Danelectro, James Trussart and Fender basses.
Catch Fade to Blue in their infancy. Like a young sun, they continue to burn ever more brightly. Let's hope they never supernova and end up "In The Dark."
©2006 Roger-Z