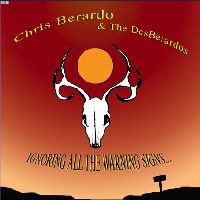 Chris Berardo & The DesBerardos

"Ignoring All The Warning Signs..."
www.DesBerardo.com
Lamon Records
CD review by Roger-Z (12/23/06)
Appeared in More Sugar, January 2007, P. 15A
News Flash -- Hippies found living in Silvermine, Connecticut! Can you believe it? Yeah! They call themselves Chris Berardo & The DesBerardos and they spend their days touring up and down this great country playing "Americana" -- a musical amalgam that includes pop, rock, and country. Chris Berardo pulls on his influences (Jackson Browne, Mellancamp, The Eagles, Dylan, Springsteen) to create something fresh and exciting -- touching vignettes of growing up in small-town Connecticut. His top notch band, The DesBerardos, includes brother Marc Douglas Berardo (guitar, vocals), Professor Dick Neal (guitar, mandolin, dobro, banjo, pedal steel, organ, vocals), Pete Szymanski (bass), Paul Triff (drums) and special guests Judd Fuller (bass), Dan Tressler (fiddle), and Dave Johnson (pedal steel, fiddle).
The best songs feature strong melodies as well as optimistic lyrics that pull at the heart. "I Will Love Again" reaffirms the author's belief in love. "I've be down, but I won't stay down anymore. And if the spirit knocks. I'll throw open my door. And I will open up my heart and make another brand new start." Backed by a simple, country-folk beat, this tune will touch even the most hardened cynic.
"Everybody Swings Around Here" rocks Mellancamp style and describes life on a local party night. "Well we're back road driving and high-speed flying, throwing everything in fifth gear...Drinking whiskey from plastic cups, the girls shake and the dumb guys get real tough." Get the picture? Sound familiar?
The beautiful country waltz, "One Silver Rider," describes the heartache of life on the road. "I'm just one silver rider that got left on my own on this hard morning highway slipping farther from home... Been a month here on Sunday and that's a long time away from the touch of your hand and the things that you say."
"Passenger Side" (originally performed by Wilco) deals with the reality of life after a DWI. "I don't like riding on the passenger side... So won't you take me to the store, and then to the bank 'cause I've got five dollars we could put in the tank. I've got a court date coming in June. I'll be driving soon." Evidently not soon enough!
The decidedly country feel to this record separates it from the normal singer-songwriter record and makes it perfect for dancing. So go ahead, down that shot of Tequila, and slip on your party shoes.
©2006 Roger-Z