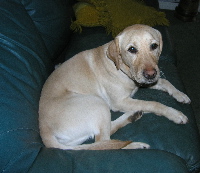 The Blues Dogs

"Howlin' Hearts"
www.TheBluesDogs.net
CD review by Roger-Z (12/22/06)
Appeared in More Sugar, January 2007, P. 15A
How can you resist a band that puts such an adorable pooch on the cover of their EP? Like that pup, this group gets pretty frisky. In fact, in many ways, The Blues Dogs hark back to the "heavy" blues-rock of the first Jeff Beck Album, "Truth." This quartet of area veterans consists of leader Al Frankel (harp, vocals), Eric Haight (guitar), Les Bloome (bass), and J.J. Clarke (drums).
Whether they rock or shuffle, the powerful rhythm section immediately launches your fingers tapping and your feet shuffling. Guitarist Haight leads each groove with his sharp, line driven, rhythm playing. Bassist Bloome and drummer Clarke pump up the beat with a rock-steady pulse that irresistably pulls you in. Al Frankel sings with authority and conviction while interspersing these blues classics with meaty harmonica licks.
Recorded live in the studio by DTG Productions, the EP captures the raw intensity of the players. The band explodes out of the box with the Butterfield Blues Band's "Born in Chicago." The fun really begins with the harp and guitar solos. Frankel likes to take a riff, play with it, and then just pummel it. Haight, on a Stratocaster, favors a more psychedelic approach, melding blues and rock riffs into his own original brew -- and then driving it home like a jackhammer! "Goodtime Charlie" sports a funky groove guaranteed to get a crowd moving. The other three songs feature variations on the shuffle. "Superstar" stands out by virtue of the humorous, bragadocious lyrics. "I was talking to a blind man the other night. And he said that woman you've been talking about, mm, mm, mm, what a sight!" The relentless beat drives the message home.
The Blues Dogs treat these tunes like a favorite bone. They grab hold of it, toy with it, and then gnaw until nothing remains. Live, they ignite the crowd with their very first note. Nobody sits down until the end of the set. Do yourself a favor, grab hold of this record and prepare to howl!
©2006 Roger-Z