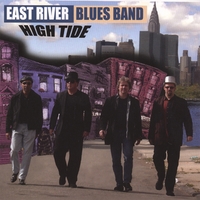 East River Blues Band

"High Tide"
www.EastRiverBluesBand.com"
CDBaby.com/EastRiver2
CD review by Roger-Z (08/12/06)
Appeared in More Sugar, September 2006, P. 20A
The new classical music? The blues. It wouldn't surprise me if they taught it in public school using sheet music. But how does this fossilized art form continue to evolve? To earn a Ph.D. in pure mathematics, you must contribute something completely new to the field. On "High Tide," the East River Blues Band members innovate by writing tunes that infuse folk, zydeco, jug band, Latin rhythms, and -- gasp -- even pure joy!
The band consists of Bill Acosta on bass, Tom Brumley on harmonica, Dan Cumberland on vocals, Ken Hughes on guitar, and guest drummers Towner Galaher, Gary Georgette, and Dennis McDermott. CD promotional material portrays the band as "rough and tumble tough," growing up "in some of the hardest sections of New York." Sorry, they don't come across as bad boys. As a matter of fact, they really sound best when they let their guard down and play it straight, or even a little tongue in cheek.
Album highlights include the lighthearted, jug-band music of Lovin' Girl, which features the harmonica and spirit of the sixties rockers, The Loving Spoonful. Who could forget that famous line from the movie "The Terminator" -- "Hasta La Vista, Baby?" Not the East River Blues Band. Their tune of the same name borrows a page from Carlos Santana and War's "Low Rider." When Mr. Cumberland sings, "I can't find my money baby, What is going on? In a west side hotel room all my clothes are gone," I don't know whether to laugh or cry. But the stinging guitar and harp sell me on the pain. "Candy Store" starts with exquisite rag-time, finger-picking guitar by Hughes before Cumberland gently extolls the joys of girl watching. "Summer is coming, go out for a stroll. Meaty, small, big and bouncy, you know I like 'em all. The bassless instrumental, "Fiona's Shuffle," exudes the pure joy of taking a stroll on a bright spring day. Or maybe the joy of watching Fiona taking a stroll on a bright spring day. Toots Thielman's got nothing on these boys.
Not to say that the group doesn't do a credible job on "traditional blues." The album opener, "Closing Time," features a terrific horn arrangement over a bopping, swing beat. And the minor slow blues, "Bleeding," begins with wailing, solo harp before delivering a bitter tale of betrayal by the all-inclusive "New York Woman." Great job, Bill Acosta, for melding so seemlessly with the three different drummers on the record.
"High Tide" demonstrates the profound diversity and uplifting power of the blues. Sure, life can bring you down faster than you can say "Hasta La Vista." But I dare you not to smile when thinking about "Fiona's Shuffle" at "Closing Time."
©2006 Roger-Z