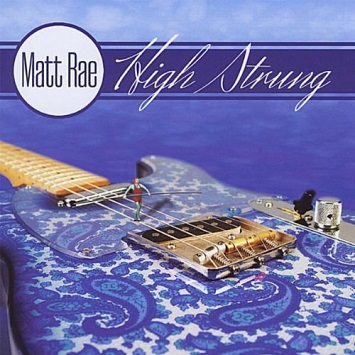 CD review by Roger-Z (12/09/08)
Appeared in More Sugar, February 2009, P. 13B
On his third instrumental guitar CD, "High Strung," Matt Rae sprinkles his Telecaster fairy dust on a wide array of material. Although I use the word, "Telecaster", I'm not even sure if Rae plays a genuine Fender guitar on this album. He may just caress Tele-like instruments built by boutique vendors or finger guitars that look nothing like the original. I define the Telecaster approach as playing flurries of very clean, major-mode notes slightly ahead of the beat.
As mentioned, Rae covers a lot of territory on this record. His band includes Stuart Stahr and Mike Marble on drums, Mark Bridgman and Paul Oplach on bass, with the latter providing keyboards and pedal steel. These stellar musicians combine in different configurations to produce innovative and supportive grooves. On the first track, "Bad Truck", Rae and company furiously bang out Zeppelinesque riff-rock. Don't forget Jimmy Page cut the first Zep album with a Tele. Rae gets his "good ole boy" country picking on with "Peanut Butter and Tele", "Happy Ending" and "Weedwhacker". "Peanut Butter" contrasts an upbeat, two-step section with a suspended minor chord bridge. "Happy Ending" mixes a pedal steel style with New Orleans jazz chord comping. "Weedwhacker" evokes The Grateful Dead.
Rae shines especially bright on his blues-rock and funk efforts. His cover of "I Only Have Eyes For You" absolutely rivets. This only non-original on the CD oscillates back and forth between tremolo and pedal steel effects. "After Hours" grooves like a cross between Eric Clapton's slow, Michelob beer version of "After Midnight" and Marvin Gaye's "Inner City Blues". Close your eyes, and you might mistake "Lizzie Strut" for The Average White Band. The gang gives rockabilly a workout with "Small Brown Dog". "Pink Beach" conjures up Gene Pitney's "Town Without Pity" and features tasteful use of the tremolo bar. Rae breaks out the Jerry Reed swamp guitar on "Goose Pickin'". He wraps up the album with chromatic, after-hour, smoky blues on "Tube Job".
No one knows what sells anymore as the music industry lies in disarray. Maybe it's time for the instrumental album to make a comeback. In that scenario, "High Strung", should surely top the charts.
©2008 Roger-Z