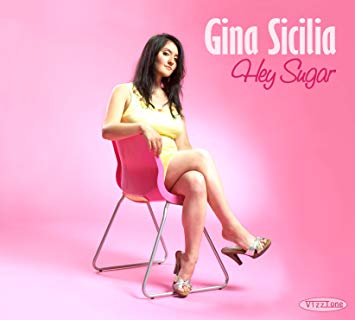 From the first note of Gina Sicilia's "Hey Sugar," one thing's obvious -- she sings as good as she looks. This sleepy eyed, voluptuous beauty wraps her warm voice around your soul and simply won't let go. And just because she's advertised as a blues singer doesn't mean she only performs sad songs. Far from it. Lust and good times abound.
"Natural born singer." That's how I'd describe Sicilia. Derived from the Bonnie Raitt and Susan Tedeschi school of recording artists. And like Tedeschi and her secret weapon, husband Derek Trucks, Sicilia wields boyfriend and blues guitar great, Dave Gross, as producer of this album. He plays as good as she sings. Sicilia wrote nine of the thirteen tracks. She provides the fuel and he ignites the flames.
The fire these two ignite can't be put out. The thirst they create cannot be quenched. When Sicilia sings I'm "So Attracted to You," you can feel the flames lick your face. Shades of Bonnie Raitt, when Sicilia howls "Kissing in the Dark," Gross answers her call with a burning yet sophisticated solo that utilizes unusual bends and sophisticated timing. Telecaster blues never sounded this good. "Jack and Jill" ignites the same feeling, only on a slower burn. Once again, Gross's smoldering guitar answers the singer's call. The mournful "I Pray Most Everyday" sounds like it could have been lifted from the soundtrack of "The Godfather." Then out of nowhere, a severe left turn. Sicilia breaks out with an old time country tune (that she wrote) called "What the Moon Could Never Do." She follows with a soul-stirrer reminiscent of "Bring It On Home" called "Bad Years Comin' On." Mixing it up again, she brings back doo wop with the title track, "Hey Sugar." The singer's alto brings a more sultry coloring to Dolly Parton's "Coat of Many Colors." The slow blues of "The Lowest of the Low" erupts with Gross's fully cranked guitar to conjure up the ghost of Muddy Waters.
Gina Sicilia offers up a "Coat of Many Colors" on her sophomore effort. She expands on the blues with forays into country, doo wop, and soul. Her backup musicians provide a warm, organic setting that proves to be the perfect setting for this jewel. They include Dave Gross (guitar, drums, bass), David Maxwell (keys), Scot Hornick (upright bass), Chris Rivelli (drums), Dennis Gruenling (harmonica), Jon-Erik Dellso (trumpet), and Gerry Niewood (sax, clarinet) who unfortunately just passed away on the recent plane crash in Buffalo.
As great as this record sounds, it should serve as a clarion call to the major labels. Enjoy Gina Sicilia in this simple setting while you can. Like blood in the water, the LA and Nashville sharks will snap her up before you can shout "Jaws!"
©2009 Roger-Z