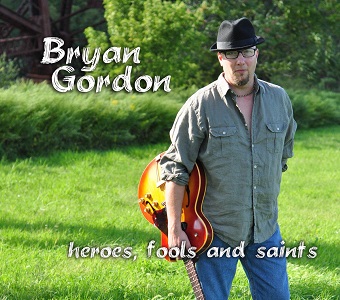 Bryan Gordon

"Heroes, Fools and Saints"
www.BryanGordon.net

CD review by Roger Zee (12/27/16)

The harp of Dylan and Young. The voice of Mellencamp. The organ of Springsteen. Real darkness on the edge of town! Sadly, almost no one on Bryan Gordon's "Heroes, Fools and Saints" gets out happy -- or even alive! Hope things work out better in the maestro's real life. But on the up side -- bad news sells! Gordon wrote, produced, and played all instruments. Julie Corbalis sang background vocals.
So many tales of woe, so little time -- most fueled by alcohol-induced rage and a side order of inability to commit. Let's begin with murder. In the organ-drenched, mid-tempo rocker, "Rainy Day," the narrator describes how his brother Harlan "led a twisted life. A single word would set him into rage. You see the ill effect of alcohol, a six-inch kitchen knife made sure he'd spend spend his life living in a cage." On the ballad, "I Won't Be Coming Home," the singer relates "I killed a man in Austin an hour ago, don't think I'll be coming home tonight. I should have listened when you begged me to stay. We both know when I'm drinking just get out of my way. Now I know I never should have been in that bar but I swear to God I didn't think I hit him that hard."
Relationships seem to fold pretty easily as well. The vocalist throws in the towel on the chugging "Don't Tell Me the Truth." "Don't want to know what you were doing last night. I don't get pissed off anymore. I don't want to fight. Let's make things easy. We're just killing time. God knows I'm no angel, but honey you ain't no prize." In the gospel-like "It Wouldn't Be Right," "We've known all along I can't give you what you need. It's breaking my heart. You tell me I'm a selfish man. Deep down I know you're right. I don't have the kind of words to ease your lonely nights. Oooh I know that's what you need." The sadness continues on the sing-song "Better on Our Own." "I can see you're not home. Are you shopping or out sleeping with your therapist? He really must be helping. You keep going back. Did you think I didn't know?"
Love does triumph for a few short moments on the record. The narrator describes his crush in the uptempo "Spinning 'Round the World." "She rips her clothes and puts them on. She's different than everyone. She has multi-colored hair. She said she doesn't care. And her friends all put her down. She keeps spinning round the world." Another suitor rocks out in desperation. "Juliet, Juliet," I can't live without water. Juliet, Juliet let me drink from your sea."
These well-crafted and executed songs hook their sadness deep in the soul of the listener. The one-man band called Bryan Gordon evokes a time in the Seventies when epic tales of love lost captured the heart of our nation.
©2016 Roger Zee