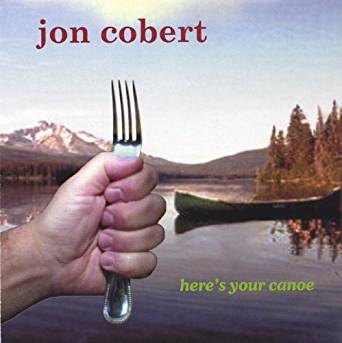 Jon Cobert

"Here's Your Canoe"
www.JonCobert.com"
CDBaby.com/JonCobert
CD review by Roger-Z (03/15/08)
Appeared in More Sugar, April 2008, P. 21A
Keyboardist Jon Cobert made his reputation as a side man. After he accompanied me with his accordion and vocals at the open mic at Lucy's Lounge in Pleasantville, I knew why. He's there for you one hundred percent. No extraneous notes draw attention to him. Glance at Cobert over your shoulder, and his smile exudes warmth and support. That in turn inspires confidence, causes you to relax, and totally raises your game. He's practiced his craft with the likes of John Lennon, Al Green, Harry and Tom Chapin, Jon Denver, Laura Branigan, and Henry Gross to name a few.
Along the way, Cobert wrote many tunes including the theme to ESPN Baseball Tonight. In 2005, he decided to make the transition from side man to front man and began work on "Here's Your Canoe." He called in his markers and brought in some big guns: saxophonist Mark Rivera (Billy Joel, Ringo, Hall and Oates, Foreigner), drummer Allan Schwartzberg (Harry Chapin, Kiss, Anne Murray, Peter Gabriel, Rod Stewart), singer-songwriter Larry Hoppen (Orleans), guitarist Ira Siegel, vocalist Vaneese Thomas, singer-songwriter Kati Mac, bassist Tony Tino and singer-songwriter Tom Chapin.
"Here's Your Canoe" falls squarely into the soft rock category -- now called adult contemporary. He sings in the first person about the joys and pitfalls of love. His classical sensibility separates him from the pack. Most importantly, when he describes a situation, you feel the passion and the pain. In "Situation," the ghost of Chopin plays keys while Cobert sings, "Our love's become a situation, and I'm just pretending." He nails that apical moment in a relationship when you first know the end is coming and there's nothing you can do about it. In, "I Thought Love Would Save the Day," he sings about the struggle of making a relationship work when opposites attract and no one thinks you'll make it. In "Touch Someone," Cobert urges the lonely to reach out and touch someone with your smile, your eyes, and your heart. The reggae flavored "Hold On," features a melody a mile wide along with a classic message.
Great songs always find a market. When I first met Jon Cobert, I suggested he take his songs to Nashville. He was one step ahead of me. The tunes on this record allowed me to relive the joys and heartbreaks of my great romances. What a great feat. Thank you, Jon.
©2008 Roger-Z