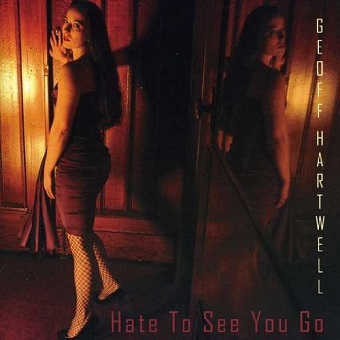 Geoff Hartwell

"Hate To See You Go"
www.Geoff Hartwell.com
CDBaby.com/cd/GeoffHartwell2
CD review by Roger-Z (05/16/09)
Appeared in More Sugar, June 2009, P. 32B
Pleasantville native Geoff Hartwell developed a national reputation as a slide guitarist through his summer stints at the National Guitar Workshop. There he gained the devotion of countless students as well as camaraderie with his heroes Sonny Landredth and Cindy Cashdollar, both of whom make appearances on "Hate To See You Go," Hartwell's sophomore effort. On his first record, "Perfect Stranger," Hartwell showcased his songwriting abilities. On this CD, he aims for a live, "balls to the wall" approach with a mix of originals and covers. The Geoff Hartwell Band consists of Hartwell on vocals and guitar, Rich Kelly on bass, J.J. Clarke on drums and percussion, and Chris Burke on Hammond organ and piano.
He shows up with all guns blazing. On the infectious first track, the three chord rocker Tumbelina penned by Hartwell and "Slippery Chickens" bassist Jerry Scaringe, the guitarist shares licks with the legendary Sonny Landredth. How's that for stepping up to the plate! Those of you who have seen Hartwell live have undoubtedly witnessed his signature rendition of the Allman Brother's "Statesboro Blues." For this record, he wrote a replacement, "Drinkin' Bourbon Whiskey." Smart move. The money's in the writing. Goes like this. "I've been drinking Bourbon Whiskey, going out and carrying on." Sounds like an arena rock sing along. Another Hartwell staple, "Honest," finally makes its record debut. I approached listening to this slow blues with great trepidation. After all, I've heard him nail this a hundred times. Would he capture the raw intensity on tape? Duh, yes! "Dreams," composed by Hartwell, features a peppy, funky beat and could have been an outtake from his first effort. "Where do you go when you look so far away I want to tell you that someday I know you'll find your own way... Your dreams are closer than they seem." Producer Matt Smith does a wonderful job of layering guitars and cutting instruments in and out.
Hartwell takes some risks and spreads his wings on this record especially on the two songs that feature baritone sax player Dana Colley. The slow and slinky title track, "Hate to See You Go," reminscent of Springsteen's "The Fever," features a sly twist of words. "I hate to see you go, but I love to watch you leave." Check out the album cover to see what he means! The title of "Bar Fungul" features more wry word play. The instrumental, written by Hartwell and Kelly, harks back to Edgar Winter's "Frankenstein." And it gives Colley, Burke, and Hartwell a chance to cut loose on a one chord vamp. On the Gershwin classic, "Summertime," Hartwell plays a beautifully conceived slide intro. His church roots show through with the gossamer instrumental duet with Cashdollar on the traditional "Water is Wide." Cindy Cashdollar and Hartwell funk the crap out of Chuck Berry's "Maybelline." I'll bet Maybelline never got ridden like that. Throughout the record, drummer Clarke and bassist Kelly lock tighter than crazy glue. Playing a hundred gigs per year will do it for you.
The Geoff Hartwell Band continues to grow and mature. The next step? I'd like to see them get out on the road opening for the likes of Sonny Landredth, Popa Chubby, Joe Bonnamassa, Derek Trucks, or Johnny Winter. Catch them before they take off every Tuesday night at MacArthur's Grill in Pleasantville, NY.
©2009 Roger-Z