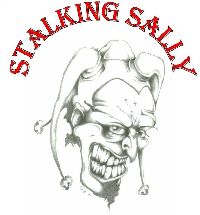 On "Hard To Find," Stalking Sally offers up a fascinating dichotomy of sounds. They rock harder and heavier than "Alice In Chains" on one track and then perform "unplugged" on the next. At their best, they combine the two. Based out of Mahopac, NY, the group consists of Matt Murphy (guitars, backing vocals), Joe Torino (bass, backing vocals), Tom Volckmann (drums, backing vocals), and Dennis "Dizzy" Zehel (lead vocals).
"I Keep Falling," written by Murphy, exemplifies the group at its zenith. Starting out with up tempo, multi-tracked, acoustic guitars on the verse, the band slows down and crunches heavy into the chorus -- shades of "Helter Skelter" guitar. The pace picks up in stages before returning to another verse. The song ends with a marching drum. The intricate construction of the tune cries out for an elaborate stage production. You can just picture the laser light show.
"Living in This Bottle," a tale of demon alcohol, follows the same game plan -- acoustic start with heavy chorus. Zehel writes and cries out, "I think I need help. Can't get up by myself. I slipped and fell and landed on my head. Back in the bottle." Great wah wah guitar by Murphy.
Highlights abound. Oddly enough, "And" evokes strains of America's "Venture a Highway." The acoustic "Love Is The Reason" marries Jimmy Page acoustic guitar with Eddie Vedder vocals. Sometimes the music says it all like the instrumental "Sticky Fingers," a demon cross between Edgar Winter's "Frankenstein" and ZZ Top. "Left Behind" offers a nice change of pace. It begins slow and heavy and stays that way despite a few tempo changes. "Wrecking Ball" takes "slow and heavy" to the Black Sabbath/Metallica level -- "You know it's all right. I said it's all right. You know it's all right. It's all in your mind not your heart." Outstanding guitar sounds. Murphy likes to let a note ring and then pull it slightly sharp ala Tony Iommi of Black Sabbath.
The musicians polish this complex music into a brilliant diamond. Vocalist Dennis "Dizzy" Zehel ranges from feral, metal growl ("Anger Management") to folk-rock ("And"). Bassist Joe Torino locks so tight with drummer Tom Volckmann that they sound like one person. Guitarist Matt Murphy creates unique guitar sounds for each song. The intricate arrangements and attention to detail bode well for the groups ascension to the concert stage.
If you lean towards the heavier side of rock, keep an eye out for "Stalking Sally." Be smart. Catch them now at your local Westchester club before you end paying big bucks at the Garden.
©2007 Roger-Z