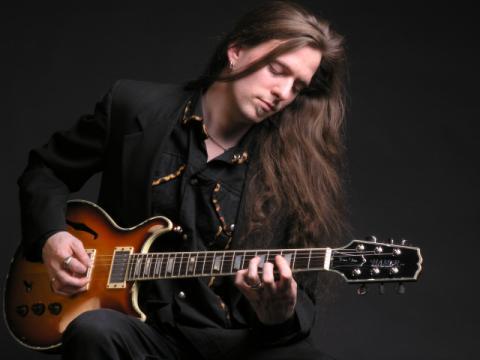 Geoff Hartwell

"Guitar Master Geoff Hartwell"
www.GeoffHartwell.com

Interview by Roger-Z (02/17/14)
Roger-Z: Who inspired you to pick up the guitar?
Geoff Hartwell: My dad. He played for me a lot as a kid, and got me started playing. I come from a Celtic background, and we made a lot of music just as a matter of course. Not only parties and funerals and so forth, but as a way of hanging out together. It was natural to tell stories and sing songs, and swap instruments. And music is still a very social and inclusive thing for me.
Roger-Z: What other instruments do you play?
Geoff Hartwell: I have a BA in Music from Hartwick College with guitar as my primary instrument. I also play banjo, mandolin, lap steel, dobro, bass guitar, drums and keyboards.
Roger-Z: Which groups do you work with and where?
Geoff Hartwell: I have two solo albums, and a new CD coming out that is a collaboration with Oteil Burbridge (bass player for the Allman Brothers), Kofi Burbridge (keyboard player for the Tedeschi Trucks Band), Yonrico Scott (drummer from the Derek Trucks Band), Chuck Leavell (piano player for the Rolling Stones and the Allman Brothers) and Erik Lawrence and Steven Bernstein (horn section for Levon Helm). I'm REALLY proud of this work and I can't wait for everyone to hear it soon. So that's my forthcoming solo thing. I also play in a NY-Based 80's Rock cover band called "The Fred Savages" which is a lot of fun. And then I also play with Padraig Allen and the McLean Ave Band, an amazing Irish band. I play mostly banjo, and some electric guitar with them. We just played at the Valley Forge Mid-Winter Celtic Festival outside of Philly and it was a blast. Last summer we went to Philly, Boston, Cleveland, and a ton of other great festivals. I LOVE playing festivals and hanging with the other bands, and I'm looking forward to doing a bunch more work with them.
Roger-Z: How's your weekly jam going?
Geoff Hartwell: Great! I run a free acoustic jam every Thursday at Opus 465 in Armonk NY from 8 to 11 pm. It's a really special place with great food, and a great staff. They have a ton of live music there, about four nights a week, and it's really chill -- a great setting for getting together and playing music on Thursday nights. I rotate my duo partners every week, so sometimes it's a fiddle player, or bass player, or guitarist, etc. But it keeps it fresh, for sure. And it's early. You're not waiting around until late on a week night. So that's another plus.
Roger-Z: Tell me about your teaching practice and new studio.
Geoff Hartwell: I have a new multi-room studio in Pleasantville where I teach, rehearse, write and record, as well as rent fully-equipped rehearsal space with drums, amps, PA, and everything. I teach a bunch of private students on guitar, piano, bass, drums, and banjo/mandolin. And I put together bands of adults who come to the studio once a week. I have them learn three songs in a few weeks, and then I take them to a jam and have them perform once a month or so. It's a great way for them to keep learning stuff, and also be performing regularly. One of my favorite sayings is "Three chords make your life three chords better". Meaning, not everyone feels the need to practice a million hours to become an exceptional musician. It's great if that's your case and I totally support that. But I also believe that if someone digs music and just wants to play some songs that they like because it makes them feel good, I want to be able to make that accessible and successful, and most of all enjoyable. Life is too short as it is, so trying to help others connect through music is something I'm really passionate about. If anyone is looking for lessons, recording or rehearsal time, please email me at geoffhartwell@geoffhartwell.com and/or facebook.com/geoffhartwellmusic.
Roger-Z: How do you enjoy producing records?
Geoff Hartwell: I LOVE it. I just recently finished producing the debut release from Michael Pennacchio (www.ReverbNation.com/michaelpennacchio) called "Better in the Morning." It came out great and I'm really proud of it. He's an amazingly talented songwriter, and it was a pleasure to work on. My first rule as a producer is "Do No Harm!" The songs and their aesthetic, whatever that may be, have to work together sonically to complete the message of the song and get it across to the listener. Michael already has great songs to begin with, so my job was pretty straightforward. Once we got the arrangements together and revised a few things, it was a matter of fleshing them out with instrumentation and dynamics. And sometimes, that needs to be the opposite, meaning leave the song as naked as you can to translate that intimacy. His song "Heart Beat" is a great example of that concept -- making the song stronger by NOT adding a bunch of stuff on top. As they say, sometimes discretion is the better part of valor.
Roger-Z: What's your approach to songwriting?
Geoff Hartwell: I don't really have a standard approach to songwriting other than to do it all the time. I'm not a particularly prolific songwriter because I love to revise. And revise... And revise. I call it "beating a dead horse back to life", haha. But the reason for that is to hopefully make all the elements the strongest that they can be. Chord progression, melody, harmony, lyrics, arrangement, everything. I'll tell you a funny story. Several years ago I was working with a producer on one of my songs and he asked me, "What's the coolest part of the song?" And I started to reply about this cool little part that happened in this one little place, and he interrupted me and said, "How come the rest of the song isn't that cool?" My jaw dropped and then I just busted out laughing. But that reminds me to look at all the parts mercilessly and seriously consider how each can be revised to make them the best they can be.
©2014 Roger-Z