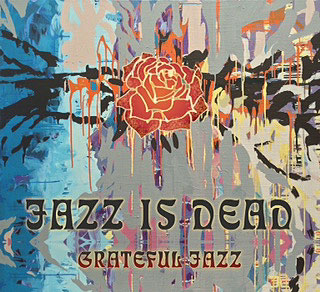 Jazz Is Dead

"Grateful Jazz"
http://www.JazzIsDead.net
http://www.cdbaby.com/cd/jazzisdead
CD review by Roger-Z (10/21/15)

What happens when you gather together some of the finest U.S. studio/jazz musicians and turn them loose on the Grateful Dead catalog? You get instrumentals that morph from The Beatles, Jeff Beck, Toto, Little Feat, Vince Gill to John Tropea, Weather Report and Billy Cobham. The core group of T Lavitz (keys), Jeff Pevar (guitars), Rod Morganstein (drums), and David Livolsi (bass) laid down mostly live, basic tracks at Tapeworks Recording Studio in Hartford, CT in 2005. But just as they started mixing the record, T Lavitz tragically passed in his sleep. In anticipation of the Fiftieth Anniversary of the Grateful Dead, Pevar dug up the recordings and added additional overdubs by Alphonso Johnson (bass), Luis Conte (percussion), Bill Evans (sax), Jerry Goodman (violin), Bill Holloman (trumpet, sax), and Howard Levy (harp).
The band reanimates The Dead with a broad palette of colors and styles. They peel out of the gate with "Cumberland Blues," a country two-beat on steroids driven by the Telecaster magnificence of Jeff Pevar. They channel their inner Little Feat on a very funky "Sugar Magnolia." "Jack Straw" marries Toto and The Mahavishnu Orchestra under the canopy of Jerry Goodman's magic violin. Morganstein and Livolsi drive "Truckin'" on a "Freeway Jam" with the pedal to the metal - just like the mythical Casey Jones!
The music breathes... You can feel the fresh air on your face in "Attics of My Life" funnelled by a New Age Weather Report. I hear The Beatles, especially the Paul McCartney of "When I'm Sixty-Four," in a mostly acoustic rendition of "Friend of the Devil" featuring Jeff Pevar on mandolin, dobro, and banjo. The group renders a shimmering, gossamer, smooth-jazz version of "Uncle John's Band." The band gets their funk up with "Mr. Charlie" and engages in some very hip organ and harp discussion. They continue to rock and roll on "11" right into "One More Saturday Night!" "Dark Star" begins in church and slowly builds intensity like an approaching thunderstorm. It alternates between gale force winds and soft summer sunshine!
The pedigrees of the players shine through - Grateful Dead, Phil Lesh, Dixie Dregs, Weather Report, Jefferson Starship, CSN, Ray Charles and many other notable artists. These superlative musicians put new skin on the bones of The Dead and elevate it to a "Higher Love!" Don't miss Jazz Is Dead when they pull into town on their current tour!
©2015 Roger-Z