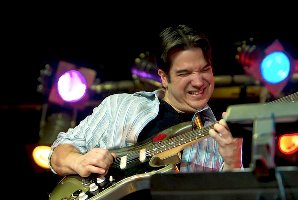 Gil Parris featuring Josh Dion

www.MySpace.com/GilParris
Appeared in More Sugar and CT Sound, June 2011
CD review by Roger-Z (04/24/11) appeared in More Sugar and CT Sound, June 2011
I received an unexpected suprise recently at Dan "Chopper" Carillo's Tuesday Night Jam at The Wicked Wolf (www.WickedWolfWp) in White Plains, NY. After a smoking set with Gil Parris and Bernie Williams on guitar, Steve Brown on drums, and yours truly on bass, Parris slipped me an unmastered preview of his new pop/rock collaboration with Josh Dion. He whispered, "This is the CD you always wanted me to make." He's right. Parris cuts loose on his Strat like a man fleeing a nuclear meltdown. Dion pounds the drums like Carmine Appice while re-defining "blue-eyed soul." And bassist Anthony Candullo super glues the two musicians together.
Finally, Gil Parris unleashes a torrent of blues-rock guitar on disk -- something he does live at least a couple of nights a week. In "Outside Love," the highlight of the album, Dion pleads with his woman to stop cheating while Parris cuts loose every defining lick in his arsenal. You know how they talk about how white is the new black? Well Gil Parris is the new (and vastly improved) Jeff Beck! What I wouldn't pay to see Santana, Beck, and Parris cut each other.
Continuing in the blues-rock vein, the group covers one of my favorite modern blues tunes, Al Kooper's "Love You More Than You'll Ever Know," a song Parris played every night while a member of Blood, Sweat, and Tears. Most musicians give lip service to how they like to "leave space" in their music. Anthony Candullo and Josh Dion walk the walk. Dion absolutely roars on the vocals and nothing distracts from that focus -- until Parris throws down. I have never heard anyone play like Parris and that's what makes him great. How many distinctive blues players do you know?
The rest of the CD features pop-soul material more similar to what Parris and Dion have done in the past. "(Out of My) Reach" finds Dion mining the Hall and Oates vein. Parris contents himself weaving gossamer sheets of sound until a very structured "AM" solo. The mid-tempo "Alone" plumbs the depth of loneliness with lots of little rhythm breakdowns. The catchy "Ocean" percolates to an infectious groove and with a sinuous guitar lick that hooks deep in the brain. The solo reinforces yet again the uniqueness of Parris.
Thank you Mr. Parris for exploring your heavier side on record. When you flesh out the final CD, I hope you throw in even more blues-rock. I love the fire raging in all of your souls. Rock on!
©2011 Roger-Z