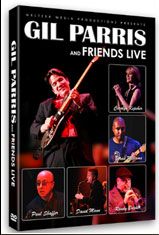 Gil Parris and Friends Live

01/24/07
Irvington Town Hall Theatre, NY
www.GilParris.com

DVD review by Roger-Z (09/22/07)
Appeared in More Sugar, October 2007, P. 20B
What makes Gil Parris special? What separates him from the hundred or so guitarists who appear each year in "Guitar Player Magazine?" It begins with the tunes he picks -- most written by himself. I'll bet Jeff Beck didn't know what he started when he recorded Stevie Wonder's "Cause We've Ended As Lovers" on his ground-breaking instrumental album, "Blow by Blow." Two songs on this DVD evoke that romantic ballad -- "When Love Was New" and "It's A Lie." Great, wistful melodies simply stated with gorgeous guitar tone and exquisite phrasing. Like Beck, Parris's rock roots shine through in his choice of guitars (mostly the infamous rose-tattooed Statocaster) and tone. Parris also evokes strains of the great Steely Dan era when he plays the more sophisticated and complex tunes such as "Sugarman" and "Ostinato."
On this DVD recorded live at Irvington Town Hall Theater in Irvington, New York, "Gil Parris and Friends" absolutely wow this sold-out, hometown crowd. The friends include the house band of Kip Sophos (bass), Matt King (keyboards), Thierry Arpino (drums) and David Mann (saxophone) as well as special guests Paul Schaffer (organ), Vaneese Thomas (vocals), Randy Brecker (trumpet), Bernie Williams (guitar), and MC Carolyn Kepcher (of "The Apprentice" fame).
Gil Parris appeals on many levels. Ms. Kepcher manages to hit on them all in her two monologues. First off, he dresses well and looks great. He logs time in the gym and it shows. Ms. Kepcher mentions how Parris recently got carded at a bar in California. But even going way back to when Kepcher worked as a waitress at "John Richards," she always looked forward to the nights that Mr. Parris played for two reasons. One the music, and two, she knew she would make money because he always drew a crowd. A club owners dream!
But getting back to what separates Gil Parris from the pack, I noticed something interesting and unique about his approach to soloing. He rarely sticks to a single style when improvising. He almost always mixes things up with liberal sprinklings from his bag of tricks. He may begin with single notes, then drop into his octave/double stop blues thing, next find a chord shape or note that he shifts up and down until he finally hammers it home. He also likes to make use of his "slightly off on purpose" pedal steel bends.
Parris put together a great band for this occasion. Drummer Thierry Arpino lifts everybody's solos by latching on to their phrasing and mimicking it. In "Ostinato," he takes a different type of solo by playing over a normal section of the tune. Saxophonist David Mann shines both on saxophone and his two compositions, "Ostinato" and "Soul Jam." His focus on the rhythm parts of these songs makes them special. Mann generates intensity using both "in" and "out" harmony. Kip Sophos plays a monstrous six string bass that he built himself. He uses the upper strings to solo as on the jazzy "Sugarman" and the lower strings to pump up the funk as on "Soul Jam." Keyboardist Matt King covers a myriad of styles -- from the funky clavinet on "Sugartime," to the Allman Brothers country rock on "Committment," to the extended jazz romp in "Sugartime" where he lifts the group to a fever pitch.
The special guests highlight the many sides of the "Gil Parris" experience. Trumpeter Rany Brecker blows up on Parris' ode to Wes Montgomery, "Blue Thumb." Paul Shaffer brings comic relief as well as old school, soul-jazz organ styling to "The Duck Walk." Vaneese Thomas brings a unique interpretation to Bread's "Make It With You." Bernie Williams provides a nice foil for Paris on a number of bluesy tunes, "Soul Jam" and "Blues for Carolyn." He shows great feel and taste while trading licks with the star. And finally, Tommy "Pipes" McDonnell earns his name on an incredible vocal performance of the Hoagy Carmichael standard, "Georgia."
"Gil Parris and Friends Live" amply demonstrates what makes Gil Parris special -- his good taste in players, tunes, and friends. Steal these licks!
©2007 Roger-Z