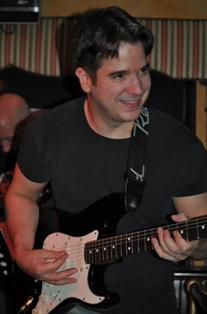 Performance review by Roger-Z (09/14/09)
What makes Gil Parris a true guitar hero? A fully realized, unique voice that generates a deep, emotional response. A voice that challenges as well as soothes. A voice you never get tired of listening to. I count myself exceptionally fortunate that I live in an area where I get to see Mr. Parris play three or four times a month. But this past Thursday, I experienced a special treat. I got to hear Gil Parris Picks the Guitar Hits live at The Falcon in rustic, Marlboro, NY. Instead of enjoying an intimate club, I reveled in watching the band rock out on a huge stage in a theatre-sized building with a great big warm sound. The personnel consisted of Gil Parris (guitar), Kip Sophos (bass), Joe Piteo (drums, percussion), Matt King (keys), and Josh Dion (vocals, drums, percussion).
The band captivated the audience from the moment they hit the stage. As everyone knows, Parris and company can play any kind of music -- from country, blues, r&b, rock, to jazz and fusion. This time around, Parris put his unique stamp on classic guitar rock. They opened with the quintessential Blood Sweat and Tears blues, "I Love You More Than You'll Ever Know." Josh Dion's brawny baritone ripped a hole right in the heart of the audience. Funnily enough, their version sounded closer to the slow groove cover by Donny Hathaway. Next, a ghostly take on Marvin Gaye's "Inner City Blues" with Miles' "So What" injected in the middle. Then on to Santana's "Europa" with a crazy, rubato intro by Parris and King. The instrumental "Crosstown Traffic" (Hendrix) featured a thundering bass solo by Kip Sophos. I have never heard anyone duplicate The Meter's groove on "Cissy Strut." As expected, Parris' group came up with their own unique bounce. The Clapton slow blues, "Have You Ever Loved a Woman," featured red-hot organ by special guest Jeremy Baum and a roaring vocal by Dion.
More highlights included the Spiderman theme followed by a searing rendition of the Beck/Stewart version of "People Get Ready". Parris got the crowd moving with the Scofield/Mayer take of "I Don't Need No Doctor." They followed with the amusing Parris original, "The Clack" which sounded like "Chicken Shack" meets "Mojo Working." Parris ended the night with a strikingly original rendition of Hendrix's "Little Wing" which brought the crowd to its feet.
In the end, Parris puts a sophisticated, jazzy spin on everything he plays. And his amazing, longtime band picks up on his every move. At the close of the show when the lights went up, the crowd had that dazed, "deer caught in the head lights" look. They knew they had witnessed something very special and very out of the ordinary.
©2012 Roger-Z