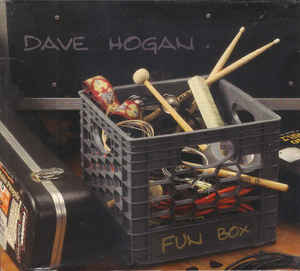 Dave Hogan

"Fun Box"
www.DaveHoganMusic.com
CDBaby.com/Artist/DaveHogan
CD review by Roger-Z (07/12/11)
Time and time again, real-life proves more outrageous than fiction. Who would have predicted Derek Jeter would go five for five on the day he reached 3,000 hits? Likewise, who would have thought a Connecticut Yankee like Dave Hogan would out country most of Nashville?
Roger-Z: What differentiates "Fun Box" from a "Graylight Campfire" record?
Dave Hogan: The "Fun Box" project was an idea I had to invite all the musicians that I have played with over the years to come and sit in on a dozen tunes doing whatever they did best. The songs were ones from my catalog that weren't really being done with Graylight live and that I felt needed to finally be recorded. I thought with the extra help from folks I don't normally play with or haven't worked with in a while, the songs might go in some different directions. Some of the problems I was faced with were that some of my intended musical guests do not live around here, have stopped playing, can't play or passed away since the planning. But I went ahead anyway and the folks that pitched in really made the songs shine. They care, you know? Musicians include myself - lead vocals, guitar, piano, Dennis Jackson - drums, Jason P. Krug - vocals, Pete May - drums, Brian O'Calaghan - bass, vocals, Kris Santala - vocals, Tim "T-Bone" Stone - keys.
Three songs were previously recorded. "Lookin' For A Reason" is an alternate take from Graylight Campfire's "Keep To Movin" sessions. "Next Time Around" is a song I did with the Rafter Bats that we livened up and kind of made into a duet with Kriss Santala. "World's Oldest Question" appears on "The Amy O'Neill Songbook" with different instrumentation. The difference between this disc and a Graylight project is that I had final say on everything from the arrangements to the artwork.
Roger-Z: I love your gold top Les Paul. Does that instrument define you? Do you play any other guitars on the CD?
Dave Hogan: That guitar is actually a '75 Les Paul Deluxe with a natural finish that has oranged out over time. I've had it for a long time and it's my main guitar. I also use an Eastwood Monolith, an Epiphone baritone, a Takamine 12-string acoustic and of course my Martin D-35 on the record.
Roger-Z: Will you put together a band and promote this CD with live gigs?
Dave Hogan: I'll be playing the CD live with Graylight Campfire at our gigs. Everyone who contributed is always invited to show up and sit in. We're also doing some shows with the Grimm Generation as dual CD release parties. Grimm consists of Carmen Champagne and Jason P. Krug. Jason wrote "Downbound Train" and co-wrote "Root Beer And Whiskey" with me and sings on both those tracks on "Fun Box". I play guitar on The Grimm Generation's new album called "The Last Record Party". Jason and I have worked together in various projects since high school.
Roger-Z: Given the state of the music industry today, what do you hope happens with this record?
Dave Hogan: I'm hoping "Fun Box" gets some good word of mouth and recognition. It's out there at our gigs and in computer-land for download. I'd like to take it on the road to reach some more folks.
Roger-Z: I so love it when you channel Marshall Tucker and "24 Hours at a Time." You grab that mad rush to oblivion with "High, Dry & Lonesome," "Go Away," "Out in the Open," and especially "Downbound Train." On these tracks, the drums, bass, and lead guitar lock into an ever shifting Dead-like groove with each instrument leading the way at different times. The whole album resonates on the jam band frequency with an emphasis on emotional communcation. On "Out in the Open," you chant the title like a mantra as the track morphs into a cloud slowly drifting across the sky. I'm betting that you will sell a lot of CDs at your live performances!
©2011 Roger-Z