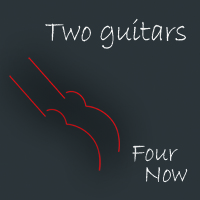 Two Guitars

"Four Now"
www.TwoGuitarsNow.com
Available at Putnam Music and performances
CD review by Roger-Z (09/20/08)
Appeared in More Sugar, October 2008, P. 27A
When I interviewed acoustic jazz crossover duo, Two Guitars, on my White Plains Cable TV Show, "Working Musicians," Gus Wieland (guitar, vocals) proclaimed The Vanilla Fudge as his favorite group. Brian Conigliaro (guitar, lead vocals, harmonica) mentioned jazz guitarist, Pat Martino. After listening to "Four Now," it makes perfect sense. The Fudge deconstructed such pop hits as "Keep Me Hanging On" by The Supremes and recreated them as almost unrecognizable rock operas. Two Guitars took Del Shannon's "Runaway" and Simon and Garfunkle's "59th Street Bridge Song" and totally reinvented them with different beats, feels, and melodies. Much like Jose Feliciano re-made The Door's "Light My Fire."
"Runaway" now sits on a samba beat backed by surreal, chiming guitars and a jazzy, scat-like, lead vocal. Almost unrecognizable, yet somehow retaining a taste of the original. The harmony, chorus vocals lead into to a beautifully thought out and executed guitar solo by Gus Wieland.
"The 59th Street Bridge Song" starts off as an up tempo jazz-guitar comp. Both players make sure they stake out their own sonic territory, in essence emulating the extreme range of a piano. At various points in the song, they shift to a mid-tempo shuffle. Tastefully placed harmony vocals and dual guitar lines enhance the tune. The slower jazz guitar solo sparkles with sophisticated chromaticism, then rages over the speedy last verse.
The CD contains two additional tunes, a Conigliaro original entitled "This Life" and a cover of the blues classic, "She Caught the Katy," popularized on Taj Mahal's first album. "This Life" sounds reminiscent of Jim Croce's "Time In a Bottle." Conigliaro sings that he never could play that old "Hollywood" game. "Smiling people all the time would never admit that everything's not so fine... This life will be the death of me." "She Caught the Katy" sticks fairly close to the bluesy, Taj Mahal version, adding a few diminished chords, a couple of dissonant guitar splays, and Conigliaro's soulful harmonica.
While researching Two Guitars on the web, I noticed a few other groups using the same name. I suggested on "Working Musicians" that they might want to change it to "Two Guitars and a Mouth!" They liked the idea.
This delightful duo takes classic songs and places them in a cocoon. The tunes emerge from their metamorphosis as glittering, ethereal, butterflies. Follow their flight and they will transport you to a universe where "dogs run free."
©2008 Roger-Z