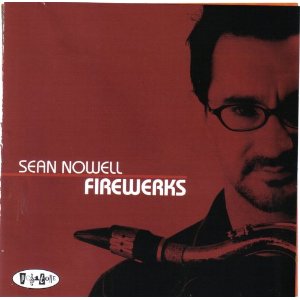 Sean Nowell

"Firewerks"
www.Sean Nowell.com
Posi-Tone Records
Amazon.com
Appeared in More Sugar and CT Sound, September 2010
CD review by Roger-Z (08/15/10)

Alabama born, New York resident Sean Nowell's second CD, "The Seeker," so impressed me that I had to search out his debut, "Firewerks." Imagine acoustic Chick Corea's Return and Steely Dan mixed with Herbie Hancock, John Coltrane, and Sonny Rollins. That paints a good picture of what goes on in this instrumental jazz record recorded at The Cutting Room in New York City of January 2006. Produced and engineered by J. Chris Griffin, the CD features Sean Nowell (tenor sax), Travis Sullivan (alto sax), Art Hirahara (Fender Rhodes), Danny Zanker (acoustic bass), and Joe Abbatantuono (drums).
Penning six of the eight tunes here, Nowell proves himself an adept composer. Chromaticism, rather than blues, colors this record. He varies the rhythms from swing ("Resolution of Self"), funk ("Maklahj"), rock ("Inner Universe"), ballad ("Lament for Arnold") to Latin ("Shahazaraz") -- sometimes all in the same song ("Folding Space")! Nowell provides the players with interesting and challenging chord progressions. Unlike a rock record where soloists lock into a groove and ride it like a wave, here the musicians dart over and under the groove, even shifting it by sheer force of will.
The dual horn line of Nowell and Sullivan plays the head of most of these tunes. It takes a very confident man to feature another sax player on your first album! Both musicians acquit themselves with a lot of tone, range, and creativity. The sentient rhythm section of Danny Zanker and Joe Abbatantuono respond instantly to every nuance of every solo. Keyboardist Art Hirahara acts as the glue with his preternatural pushing, padding, and grasping. The whole group plays with ears wide open, totally in the present. Like fully engaged lovers, the music breathes with emotion. Instruments join in and fall out in a thoroughly natural fashion.
Intelligent music rocks my boat. In an age of scripted "reality" shows that play to the lowest common denominator, I get all "verklempt" when I listen to genuine, emotional, beautifully crafted, improvisational music. Thank you Sean Nowell for raising your head above this cultural wasteland.
©2010 Roger-Z