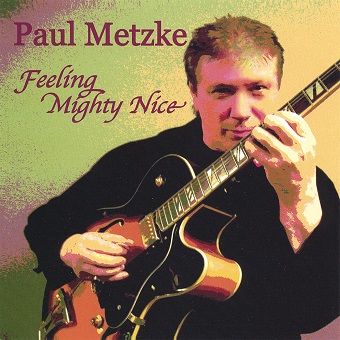 Paul Metzke Trio

"Feeling Mighty Nice"
www.PaulMetzke.com
CD Baby
CD review by Roger-Z (10/17/11) appeared in "More Sugar" and "CT Sound," October 2011
Veteran jazz guitarist Paul Metzke recently took time out from his busy schedule as a side man to lay down "Feeling Might Nice" -- his unique synthesis of blues, rock, funk and jazz. Metzke burnished his reputation playing with such luminaries as the Gil Evans Orchestra, Tony Williams, Gato Barbieri, Paul Motian, David Sanborn, Ron Carter, Mike Mainieri, Elvin Jones, Bernard Purdie, and the Dave Mathews Big Band.
I first met Paul Metzke as a "friend" on Facebook. We seemed to enjoy the same eclectic taste in music. He intrigued me with his posts of solo guitar videos of Hendrix songs. So few musicians have the ability to integrate such a wide spectrum of influences into their personal style. On this record of twelve original Metzke tunes, I hear everything from Led Zeppelin, Weather Report, Jimi Hendrix, Sly and the Family Stone, Stevie Ray Vaughan, Chuck Berry, Wes Montgomery, Bill Withers, The Temptations, to Miles Davis.
The trio consists of Paul Metzke on large body jazz guitar, Duke Newton on electric bass, and Terry Silverlight on drums. As in "The Twilight Zone," picture if you will a rock hard rhythm section fronted by a jazz guitar! I only wish he had used a Fender Stratocaster or a Gibson 335 instead. Each tune contains a head that reflects a certain style. Then they jam the hell out of it!
Virtually every song works on the CD. On the title track, "Feeling Mighty Nice," the guitar swings with a sophisticated mix of single lines and chords. The rhythm section grooves with a rock edge and manages to fuse a number of tasty breakdowns. Metzke throws in a soulful blues solo at the end. "Cajun Moon" features a funky groove with a harmonic half-step progression and a speedy chromatic riff. Jazz riffage runs wild with Silverlight locking into the rhythm of the guitar. "Mystic Quest" opens with spooky sounding Spanish chords and then morphs into a slinky blues riff. Metzke plays beautifully elongated lines that seem to last forever. "Metallic Blue" starts with a New Orleans drum break and then settles into a Zeppelinesque blues line. "Carlito's Groove" lets Metzke work on his Samba and Montgomery octaves. "Hang Glide" derives it's inspiration from Bill Wither's "Use Me" and a Miles Davis descending half-step progression. Metzke rides the rhythm like a surfer owning a ten foot wave. "Funk Junction" spikes Hendrix's "Message of Love." Lots of fast and complex lines played in unison.
We live in a world of hard and fast categories. Products sell in the tightest and most constrictive packaging. In this ADD era, we've gone from 60 second commercials to 15. Thank God for musicians like Paul Metzke who think out of the box and help re-expand our universe!
©2011 Roger-Z