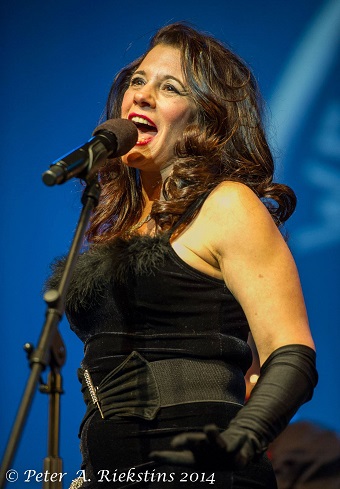 Duchess Di

"Duchess Di Interview"
www.DuchessDi.com

Interview by Roger-Z (04/21/15)
Roger-Z: How did you come up with the concept of "Duchess Di and The Distractions?"
Duchess Di: It was back in 2006. As Diane Cricchio, I had always been a folk singer/songwriter. I discovered the jam scene through my good friend Ronnie Mirro who introduced me to the Johnny Feds jam down in Yonkers. John was always very encouraging despite my struggles with pitch and time. One night after I had just gotten off stage covering Dinah Washington's "Long John Blues," Mississippi Dave Hughes approached me and said you should be doing the Risque blues ( what the ??) and gave me a list of songs by Ruth Brown to listen to. I fell in love with the genre and there was no looking back. I found all the players at the jams. Saxophonist Dave McDowell said let's do a project without amplification. That never happened. The original group consisted of Elliot Bear on piano, Hank Decora on guitar, Eddie Crucy on drums, Scotty Hershman on bass, and Dave and Steve Gottlieb on sax. It's crazy how this band came together and stayed put for five years.
I was so naďve in the beginning. I thought I was picking easy songs! The boys taught me everything. It was tough some days. Songs like "I Want You To Be My Baby" almost didn't make the set list because I simply couldn't sing it. But now it's one of my best songs. If I knew than what I know now, I probably wouldn't have put that band together! It was the best five years of my life. I became totally immersed in the character. The name of the band was going to be Doll Face and Daddy'os, but we put all the ideas on the table. Apparently Louis Jordan's girl was the Duchess so we borrowed that reference and became Duchess Di and Distractions.
Roger-Z: Recently your "evil twin" surfaced, "Dynomite Di and Destruction!" Can you explain the genesis?
Duchess Di: Duchess Di took a sabbatical because it's hard to keep a nine piece band working with out going broke. I was at an event in Mt. Kisco where I met bassist Jerry Scaringe from The Slippery chickens. We talked about doing a trio with a guitar player. We would play originals, country, and rockabilly for an occasional week night gig. It took a few years to get this group going but I really wanted to do something smaller and freer -- a place where I could be more my self and share the responsibilities of running the band with someone else. I love playing with Jerry who is the most authentic musician I have ever worked with. It's a very pure approach, all about the feeling and energy and not over playing. I would love to do this project unplugged. So Dynomite Di is a little more of an edgy, take charge kinda girl. More like me, the "Evil Twin" of the Duchess. One night, I played two shows -- one as the Duchess and one as Dynomite. I advertised the "Evil Twin" so that it didn't get confusing. I still appear with Dave McDowell on sax and we rotate guitarists Chris Vitarello and Mike Post. We also switch drummers between George Moralas, Rob Wallis, Russ Dibona, and Denis Diken. Because it's only five people, it's not a losing financial proposition. Lots of yelling going on!
Roger-Z: Do you write any original material?
Duchess Di: I currently have three original projects in the hopper. I have been writing for a long time on guitar and piano. I put out a folk/pop CD in 1994 called "What Are You Waiting For?" Writing is really the best part of the whole scene. You sometimes have to go to a really dark place to tap those emotions, or that really funny place... A few years ago I started to collaborate, which was a real challenge at first, with the uber talented Dave Keyes, It started with composing a song for the Wounded Warriors "Bill Edwards" CD called "Swing into Christmas." That led to Dave and I creating a collection of holiday songs which we are just finishing. It wasn't an easy task writing in a box. Working with Dave has elevated my whole approach to music. He challenges me. It becomes a game in my head. Every recording has to be better than the last. I enjoy the story telling process. It's what I do in my working life with my company Timeline Video. The act of songwriting leaves you feeling a little vulnerable. You write a lot of bad stuff to get to the good stuff. It's tough to collaborate because you have to get past that feeling of judging yourself or the other person. It has to be a completely free place to explore and that takes time.
Jerry Scaringe and I have just begun penning songs for the Destructions band. But it's like starting over again because every writing partnership is different. I love that rockabilly sound and no one I know does it better than Jerry! I'm really looking forward to getting into the recording studio with him.
My third project is with Andy Hunerburg who is a producer, bass player, banjo player, and inventor. We're working on producing an album of songs including a surprise cover, some songs I wrote many years back, and some brand new tunes. I find myself in a very prolific writing phase now. And as anyone who is blessed and cursed with the creative mind, you know when the muse comes and the inspiration hits, you have to go with it. I have so many new ideas, melodies, and rhythms in my head. Andy, myself, and guitarist George Naha get together weekly to work out arrangements. This new project is heavily influenced by R&B and Funk. I love the feel of R&B and I love a challenge. I've shied away from that genre in the past because I lacked the confidence and knowledge of how to approach it.
Roger-Z: Which names do you perform under now and where do you play?
Duchess Di: I perform as Dynomite Di and Destruction, Duchess and the Duke, The Powertones, and of course Duchess Di and Distractions. In NY, we work at The Quiet Man Public House in Peekskill. Chuck has been a big supporter of the new Dynomite Di ensemble. We also play in NY at OD's in Nyack, The Whiskey Kitchen in Valley Cottage, Hudson Room in Peekskill, Baily's Smoke House in Blauvelt, Pete's Saloon in Elmsford, and 12 Grapes in Peekskill. Richie and Jeannie are great supporters of live music. In NJ, we play Smith Brothers in Ridgewood. Please see www.DuchessDi.com for our calendar.
©2015 Roger-Z