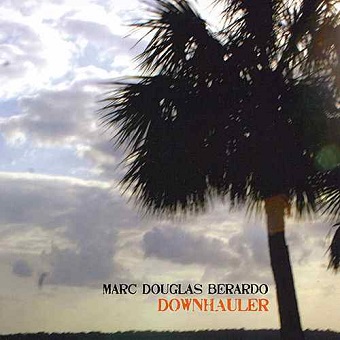 Marc Douglas Berardo

"Downhauler"
www.MarcDouglas.com
Horizon Music Group (HMG2018)
CDBaby.com/Artist/MarcDouglasBerardo
Appeared in More Sugar and CT Sound, August 2010
CD review by Roger-Z (07/17/10)
Westerly, Rhode Island resident Marc Douglas Berardo drops a gem with "Downhauler," his fifth CD and first for the Horizon Music Group. Berardo made his name as the commercial fisherman's Springsteen. Seaside imagery permeates this record. But he extends his reach to embrace small towns everywhere. Produced by Dick Neil and Berardo, this CD of self-penned tunes features a multitude of tasteful musicians who allow this exquisite music to breathe: Berardo (vocals, guitar), Dick Neil (guitar, banjo), Paulie Triff (drums), Scott Lebish (drums), Arturo Baguer (bass), Jordan Jancz (bass), Pete Szymanski (bass), brother Chris Berardo (vocals), Vic Steffens (keys), Liam Bailey (fiddle, banjo).
These songs examine the dreams and hopes that motivate us all. In "Ruby," love drives the singer to reach out to an old flame who's down on her luck. "So look at that sunrise over yonder. Look at hope hanging out in the sky. Look at that road laid out before you. The night has passed and you survived. So come on Ruby walk with me through this life." In spite of their marginal existence, Neil and Jenny find that love serves as the glue that holds everything together. "When I punch my card I only want to punch the wall, but I know that the punch won't do nothing at all...Give me something. Give me something that I can feel. Give me something real."
But for some, love just doesn't cut it. The extremely catchy "Bottom of the Bottle" describes a commercial fisherman happier at sea than on land. "You see when I'm home with my wife it's fight after fight, talk about the money and scream all night. And I look to the door and I'm ready to bail out." Only whiskey makes dry land tolerable. For Billy, love also proves problematic. His marriage fell apart after the birth of his first child. "They took to their corners and started to let in the silence. They were living in lonely town. Together in lonely town. Bringing each other down in the quiet of lonely town. Not another love to go around for them in this lonely town." Since his wife passed, "Smokegun Jack Daydreams" about a life well lived. "Smokegun Jack was feeling old. Sixty years of living make it hard to bend and tired bones need time to mend. And now the man's alone living in his mind where daydreaming is free."
Some find themselves lucky in love but living in the wrong era. Take "Cuba 1953." "Baby I ain't right for this time. Maybe this time ain't right for me. But I always saw myself living in Cuba 1953. In the back room of the Flora Dita drinking Mojitos with the senioritas and pulling on one of those big cigars." "Havana" delves deeper into that feeling. "Those faded pictures of those colorless streets always make me want to go down. Why I feel the need is a mystery. Why I need to walk on that ground."
"Downhauler" finds Marc Douglas Berardo back from his travels with a cargo hold full of treasures. Like Hemmingway, he draws his characters with pithy phrases. Like this one from "Lonely Town." "One time he tried to give his heart to a girl from the Wal-Mart, but he wouldn't let her in close and that drove her away." Listen to these vignettes and draw your own conclusions. That's what his characters would want.
©2010 Roger-Z