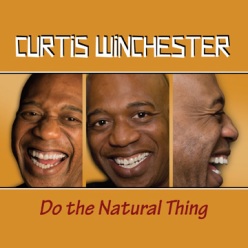 Curtis Winchester

"Do the Natural Thing"
www.CurtisWinchester.com
Stoopid Daddy Records SDR 009
CD review by Roger-Z (10/16/11)
Curtis Winchester emerges as the new king of mid-tempo R&B on "Do the Natural Thing." Producers Scott Staton and Larry Alexander drive this train. Staton provides most of the songs and arrangements and Alexander mans the engineer's booth. Gil Parris enmeshes the record with his unique guitar. The players include a "Who's Who" of Westchester's top musicians: keyboards (Scott Staton, Dave Pressel), guitar (Gil Parris, Bernie Williams), bass (Kip Sophos, Anthony Candulo, Al Payson, Larry Alexander), drums (Frank Vilardi, Joe Piteo, Larry Alexander, Robert Maxwell), flute (John Ragusa), sax (Dan Cipriano), trumpet (Larry Etkin, Michael Giradot), harp (Rob Papparozzi), background vocals (Nicole Hart, Gail Newman, Susan McMahon).
Naturally, most of the songs focus on romance -- though sadly, three deal with passing over. The best tunes capture the Winchester "joie de vivre." You don't need to be a mathematician to figure out "Perfect Geometry." "A long and slender frame, I'll never be the same. A perfect balance of attraction and seduction." The charging horn arrangement by Dan Cipriano drives the point home. "Lookin for Love," co-written by Winchester and Staton" talks about searching the world only to find love in your own backyard. The Soul Train beat revs up Dan Cipriano who blazes on the alto sax. The background vocals of Hart, Newman, and McMahon which ghost the hook home. In "Talking Trash," Mr. Congeniality actually gets pissed off! "She's always talking trash while she's drivin and she's on the cell phone. Nobody is safe cause she's nasty right down to the bone... Get off that cell phone, honey... Shut up and drive. Who you talking to, your mother? Wait until you get home. I'm trying to get to work!"
Winchester also reveals his mellow side. "Summer Love" captures the perfect summer vibe of War's "All Day Music." "Let's steal away. Get lost for a day... Sun and surf and fun. Rob Papparozzi breathes a perfect harp solo. On Denny Leroux's "Do the Natural Thing," Winchester lets the good times roll. "Do the natural thing. Feel each other just holding on. Do the natural thing. Let it happen to you and me." John Ragusa's dreamy flute solo sprinkles the requisite fairy dust. On a tragic note, "In a Byte," tells the tale of a woman who finds out her husband has been murdered while watching the evening news. Parris delivers a classic solo.
Curtis Winchester takes a big step up the food chain with "Do the Natural Thing." Backed by Westchester's finest musicians (minus myself -- LOL), Winchester delivers a steaming potpourri of R&ampB. The album climaxes with the final hook. "Take me upstairs, close the door..."
©2011 Roger-Z