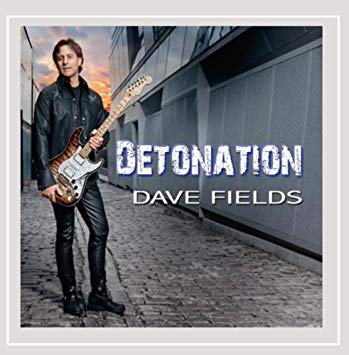 Dave Fields

"Detonation"
www.DaveFields.com
CDBaby.com/CD/DaveFields3
CD review by Roger-Z (12/20/12)

On Dave Fields' fourth CD, "Detonation," he shifts his attention from blues to rock. Paying homage to rock god, Jimi Hendrix, Fields slyly nods to classic Hendrix hooks in virtually every tune. Fields used his working band consisting of himself (vocals, guitars), Andy Huenerberg (bass), Kenny Soule (drums). and Vladimir Barsky (keys). Other participants included Deena Miller and Ada Dyer (background vocals), Doug Inrich (percussion), and Dennis Moriarty (harmonica). Fields wrote or co-wrote (with Deena Miller) all of the songs. Grammy winner, David Z, produced, recorded and mixed the CD.
"Detonation" fully lives up to its incendiery title. Fields clearly enjoys cuddling up to his bad-ass, leather-jacket persona. "Addicted to Your Fire" kicks the record off with a wink at "Foxy Lady." "I'm addicted to your fire. Got that 9-1-1 attraction. Your passion's like a nuclear reaction." "In The Night" channels Humble Pie until the first backward sounding riffs kick in and we sight the Hendrix halo. "Doin Hard Time" finds Fields dueting with Alligator Record's Joe Louis Walker. The tune features hard core, fat, tremelo-steeped guitar reverberating on a classic theme. "I'm doing hard time. But I committed no crime. But I admit to be guilty of lovin' you." On "Prophet In Disguise," we get the classic "Are You Experienced" backward, windshield wiper sounds. "It's not confusing cause I'm sure you'll surmise. You're a prophet in disguise." "Better Be Good" channels the funky, jazz groove of Hendrix's "Up From the Skies." The instrumental, "Lydia," initially grasps that "Waterfall" feeling until it goes all Zeppelin on itself.
Funnily enough, two of my favorite songs eschew Hendrix. In a sane world, "Same Old Me" would bust out as a top-40 hit. "It's not a declaration of war if I don't agree with you no more. It's just my mind has changed. The old me has been rearranged... Please love the same old me." What a great, enlightened and innovative guitar solo. Standout bass playing. Then, a world apart from all this heaviness, "Bad Hair Day" reggaes down on a hilarious topic. "How could my mind get so wrapped up in my behind... But I'm not gonna lose my mind. I'm not gonna waste, any of my precious time. Even if it feels like a bad hair day."
Dave Fields gives great Hendrix. But that's just a jumping off point. He takes Hendrix and raises him to another level. Long may Dave Fields rock!
©2012 Roger-Z