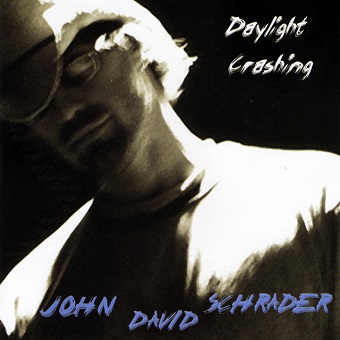 John David Schrader

"Daylight Crashing"
www.John David Schrader.com
CDBaby.com/Artist/JohnSchrader
CD review by Roger-Z (11/12/09)
Appeared in More Sugar, December 2009, P. 14A
Tell us how you really feel, John David Schrader. Don't sugar coat it. "Daylight Crashing" does just that. This man feels deeply. He wears his emotions right at the tip of his nerve ends. He wrote, produced and recorded this CD all by himself with the exception of Sean Tarleton on bass and Dave DeGraw on alto sax.
"Daylight Crashing" roars out of the speakers and smacks the listener in the face with a ream of concrete. Imagine Bon Jovi mixed with Motley Crue and a touch of Michael Jackson backed up by Phil Spector's wall of sound. Bitterness and anger leak out of this record like raw sewage overflowing in a rain storm. Betrayal and disbelief abound. On the opening track, "Shock," Schrader rages "I never knew that I could soak up all the shit that you had hidden... You kept fucking with me -- Stop fucking with me. Excuse me while I make a mess of -- 'cause it's still a shock." "Dirt" hammers the emotions even harder. "I wish you knew how much I hate this. To see you bleeding just for them. I won't deny this. I won't hide this. I'd love to see them suffer and I'll say it again." The one word titles continue with "Dangling". And so does the resentment and disappointment. "You left without a trace... I need a moment to revel in. I need to stand up straight and let this settle in. I'll have my chance to liberate. But for now I'll just dance and self medicate." Well, dancing sounds positive. And that's just the first three songs! After the paroxysm, depression follows. In "Better than Me", the music lightens up -- for a moment. "I'm stuck in this hole -- I think you should know I'm not doing so well. I need better than this -- to taste one real kiss. Can you embrace my hell?" Sorrow flows in the Who-like ballad, "77". "Please pass me the bottle -- I'm going down again. Same old kick in the stomach -- Hurts like hell, my friend."
The musicianship astounds on this record. Hooks abound. But this should come as no surprise. Schrader started as a drummer -- just like Steven Tyler of Aerosmith and Marvin Gaye. After earning a degree in music, he added vibes, guitar, bass, piano and some woodwinds/brass to his tool kit. Schrader also earned a degree in media production and has worked in New York City for years in film/audio production. He now owns his own studio (JLS Sound), and recently opened his own production company (Bugbird Productions) where he scores instrumental music for film and television.
Remember the buzz on the band, Boston, when they released their first album? Insiders whispered that Tom Scholz recorded the whole thing himself in his basement studio. In the internet age, recording an album on your own has become the norm. Hey. Why not cut out the middle-man? And if you want to cut out your pain with raging rock and primal scream therapy, pick up "Daylight Crashing."
©2009 Roger-Z