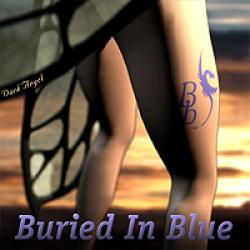 Buried In Blue

"Dark Angel"
www.BuriedInBlue.com
CD review by Roger-Z (05/19/07)
Appeared in More Sugar, June 2007, P. 8A
What a great voice. A cross between Burton Cummings of "The Guess Who" and Jesse Colin Young of "The Youngbloods," Tom Dowd's vocals cut through the music of "Buried in Blue's" "Dark Angel" like a buzz saw through balsa wood. This talented blues/garage band from Yonkers, NY released this CD way back in 2000. The players consist of Tom Dowd (vocals, lead guitar, bass), Kevin McSweeney (rhythm guitar, keyboards), and Tommy Ellis (drums). Depending on the nature (and pay) of the gig, the group slims down to an acoustic duo or bulks up to a full electric band amplified by vocalist Teri Lamar, harpist Rene Carlson, bassist Barry Garriola, and drummer Pete McGregor.
Their best songs exhibit intense, single-minded lyrics wedded to insanely propulsive beats, driven even harder by jack-hammer guitar. Take "No Good User" -- "He's a no good user, you don't have to have him hanging 'round here no more. You don't have to be living with him in misery. And if want to break free, you come running to me." "Feel So Good" sounds like Led Zeppelin doing James Brown in "The Crunge" ("Where's the bridge?") The lyrics consist of various phrases repeated four times and separated from each other by percussive interludes. First, "Baby, this is it." Next, "When you get on top." Then, "Gonna die in you." The solo section features the lead guitar battling a surging organ. "In the Beginning" finds the group united behind another massive riff. The theme? Once again, hot, lusty, loving.
As their name implies, "Buried In Blue" gets way down with the blues -- usually with a humorous bent. On the funky "I Want The Blues," Dowd sings, "I need the blues to ease my mind. I need the blues to get home on time." The group proves they can really shuffle on "Drinking Tequila." "I've been drinking Tequila and a whole lot of beer. I'm getting high with some girl and I'm a glad you ain't here." The stop time at the end of each verse sounds deliciously and deliberately out of synch. Their fifties ballad, "This Time" reminds me of Neil Sedaka's slow version of "Breaking Up Is Hard To Do."
The "Dark Angel" CD launched "Buried In Blue" into one of Westchester's most popular and versatile club attractions. To paraphrase an old musical adage, I could listen to Tom Dowd sing the phone book!
©2007 Roger-Z