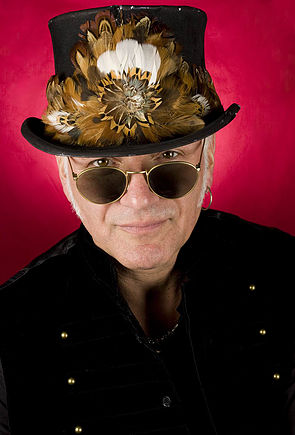 Chuck St. Troy

"Music Master Chuck St. Troy Interview"
AmericanPop.us

Interview by Roger Zee (09/06/17)
Roger Zee: Like many great musicians, you started off on the drums. What else do you play?
Chuck St. Troy: I play a bunch of stuff -- drums, congas, percussion, sax, guitar, and bass. My first big love -- bangin' on things! I built my initial drum kit out of a couple of Charles Potato Chip cans with duct tape and a metal lampshade for a cymbal! I eventually bought a real set from Bill's Music Store in Yonkers, NY. He gave me my first line of credit -- ten bucks a week until I paid off the Ludwig blue sparkle kit I bought. Boy did he have faith in this thirteen year old's work ethic! A week later I got my first paying gig and the rest is history -- a life long affection for playing and performing. Later on I focused on vocals, moved up front to sing, and started on congas and percussion. I played clarinet in the school orchestra and hated it. I studied with Duke Ellington's nephew, a great guy who encouraged me to switch to tenor sax. He said something that always stuck with me. The saxophone's the closest instrument to the human voice. You never see chicks chasing the clarinet player! Way later I developed voice trouble from singing six nights a week, five hours a night. Wanting to expand my range and learn to sing properly, I enrolled at the Academy of Music and Theater in Bronxville, NY where I studied voice and opera. Best thing I ever did!
Roger Zee: Which musicians first inspired you to pursue a career?
Chuck St. Troy: I grew up in a large family with older cousins who played all kinds of Fifties and Sixties records. We listened to AM radio which featured a wide variety of music -- Motown, Soul, Rock, British Invasion, Pop, girl groups. My dad, a big band nut, loved Sinatra and and played that stuff constantly. When he took me to see Stan Kenton and his orchestra, it blew my hair back -- all that brass! When "The Beatles" came along, that ended big band for me. As for saxaphone, I'm not a jazz guy although I do like to listen to Miles Davis, John Coltrane, etc. I love the wailin' sax from the Motown and Sixties -- Boots Randolph, King Curtis, Jr. Walker, Gato Barbieri.
Roger Zee: Name some of the prominent artists you've performed with.
Chuck St. Troy: I did a lot of session work over the years. You can find most of my album credits on AllMusic.com under my name. I worked with producer Joe Ferry, Tony Silvester (Main Ingredient), Pepe' Willie and Minneapolis Genius 94 East (Prince), Noel Redding (Jimi Hendrix) Mick Taylor (Rolling Stones), Rich Steele, Gil Parris, and many other great musicians.
Roger Zee: You live in Las Vegas but gig a lot in Westchester. Why? How does that work?
Chuck St. Troy: I went out to Vegas back in 2001 to pursue work and to get away from the snow! Things went great for a bunch of years. I performed corporate jobs with my band, "The Saints and Sinners Rock and Soul Revue." Then came the housing crash and the bottom dropped out. So I re-grouped and scaled down. I took trips back East to play with some friends' bands here in Westchester where I grew up. My buddy, J.T. (John Toglia) from "Whoz Ya Daddy" put me on their gigs as a sax player/singer. I also work with Joe Merc and "House Arrest." I love the hired gun approach because all the bands play different material and I get to stretch out musically. It's a fun hang with great musicians. Also, my daughter Antonia lives in Brooklyn, NY so I regularly get to catch up with her.
Roger Zee: Talk about your partnership with Herman Eng.
Chuck St. Troy: We've been friends for a long time. He's a Queens, NY boy who lives in L.A. now. He recently toured with Paul Simon and now's on the road with Alanis Morrisette. He's a really talented musician / producer and engineers all of our original stuff from his studio in L.A. (Scrooge Productions). Years back, I needed another guitar / bass player for my Vegas band so I called him. He'd drive in, stay at my place for the weekend, and then drive back. Subsequently, we clicked on doing a Sixties British Invasion/Pop tribute and started "American Pop." Check out our website at AmericanPop.us. When we began rehearsing together, I had a bunch of unfinished original tunes I wanted to record. We jelled and the songs started flowing. After that, we wrote songs for the Wounded Veterans Project (Westchester AllStars Christmas Album). My friend and former band mate, Bill Edwards asked if I had interest in working on the project and of course I said yes! He then wanted me to perform at the live Christmas Concerts and I brought Herman in with me. It's been a blast doing the live shows for a great cause. We made a video for one of the tunes, "Shine a Light," as a tribute to the Veterans and 9/11 first responders who perished in the attack. Never forget!
Roger Zee: Describe your most unusual gig.
Chuck St. Troy: Back in the day, my band played a club and had no idea it was a transvestite place. We got to the dark and smokey dressing room and found it filled with performers getting ready for their revue. Needless to say, we made a lot of new friends that night!
Roger Zee: What advice would you give to up-and-coming musicians?
Chuck St. Troy: Pay attention! Listen and learn. No amount of formal training can give you what sheer playing experience can. Surround yourself with the best musicians and people. Then listen very closely to them. Open yourself to all genres of music and become a well-rounded performer. Act professional. Always try and up your game. Have fun. That's the reason we play music!
The music business is a business. It always has been and always will be. Try and educate yourself to the inner workings of contracts, publishing, and performing. The social media and Internet (Facebook, YouTube.com) provide great tools to get your music heard. If you take the time to record music, you should let others hear it. If people like it, great. If they don't, great. But put it out there! Music means many things to many different people, and hey, you never know. Just ask Taylor Swift!
Roger Zee: Why do you continue to play music?
Chuck St. Troy: Live music and performing are my lifeblood. I call this the incurable disease and the great healer. I LOVE music It has gotten me through good times and bad times and serves as the soundtrack to my life. It's very emotional and though most people may not be able to play, almost everyone listens and takes from it what they need. Most individuals can tell you exactly where they were and what they were doing when they heard a specific song. I know I can. Embrace the music and let it "Shine a Light" on the world!
©2017 Roger Zee