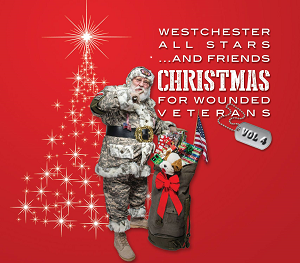 Westchester All Stars

"Christmas for Wounded Veterans Vol. 4"
http://www.allstarschristmas.com - CD and concert tickets

CD review by Roger-Z (10/22/15)

For the fourth consecutive year, singer/songwriter Bill Edwards spearheads the "Christmas for Wounded Veterans" project with a live concert and studio album performed by the Westchester All Stars. I love their rallying cry, "Hate war, but love the American warrior," dedicated to Edwards father. "Christmas for Wounded Veterans Vol. 4" presents sixteen original holiday tunes by various artists ranging from rock, country, blues, R&B to gospel.
The ladies make an impressive showing. "You're My Holiday," by Duchess Di and Dave Keys, should receive airplay as the breakout, feel-good single reminiscent of The Blackbyrds' "Walking in Rhythm." Hard-rocker Kristen Capolino does her best to entice Santa with the salty and salacious "Give You a Christmas Kiss." Joni Blondell and Bill Edwards also desire a "Christmas Kiss," only Blues Brothers' style! Vanese Thomas implores us, gospel style, to jettison hate and embrace "Peace and Good Will." Maryann Renza and Bernie Williams give props to their true love in the country-tinged "When I Think About Christmas." Mia and Scott Stanton warn "Means Girls," "No Christmas presents for you!" on their delightful electro-pop romp.
The men hold their own just fine! "How Can It Be Christmas?", sings rocker Chuck St. Troy as an American soldier stationed overseas in the burning desert. Tom Dudley (Blues Buddha) draws on his inner Elvis as he pours out "Christmas Love" while on patrol. Jon Cobert channels Marvin Gaye's "Inner City Blues" with "Merry Christmas Everyone." Tommy James sings higher than ever before in the keyboard driven, synth pop of "I Love Christmas Time." The Rascals' Gene Cornish pounds out an instrumental rock mash-up of popular Christmas tunes in "Sleigh Bell Symphony." Dipping into the blues, Guitarist Earl Slick pays tribute to Santa Claus with "Ho Ho Ho." Tony Darrow gets seriously traditional with "I Wish It Could Be Christmas." Superstar drummer, Carmine Appice, goes Fifties Doo-Wop on "Christmas Time Is Here."
Bill Edwards amazes with his hard work and dedication to writing songs, producing the record, and coordinating the big show. This year, The Westchester All Stars Christmas for Wounded Veterans Concert occurs on Friday, December 4, 2015 at the Paramount Hudson Valley Theater and features many of the artists heard on this album. See you there!
©2015 Roger-Z