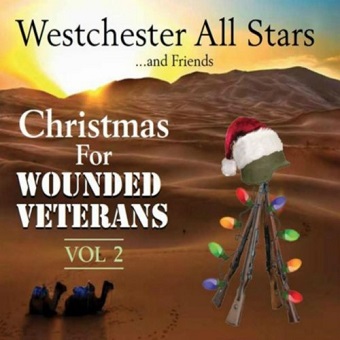 Westchester All Stars

"Christmas for Wounded Veterans Vol. 2"
http://www.westchesterallstarschristmas.com/
www.cdbaby.com/cd/westchesterallstarsforwo
CD review by Roger-Z (09/05/13)

Singer/songwriter Bill Edwards spearheaded the "Christmas for Wounded Veterans" project with a live concert and studio album for the past two years. What a terrific way for the Westchester musical community to give back to those who have given so much for their country. "Christmas for Wounded Veterans Vol. 2" flames on with fifteen original tunes by various artists in assorted styles ranging from rock, to blues, to R&B. How great to review a CD where I personally know most of the musicians!
Four tracks instantly leap off the record. The R&B flavored "Old Fashioned Christmas Eve" by The Renovators describes a holiday filled with old fashioned, hand-made toys and clothes. John Cobert's "Rockin Soul Christmas" sounds exactly like the title! He invites musicians to a jam session that starts at Thanksgiving and continues through Christmas! "Just another Christmas" by Stolen Moments channels Evanescence and Heart to produce a unique Goth holiday experience. And finally, Scott and Mia Staton conribute "Hey Hey Santa," a family saga about sibling rivalry that will leave you lying on the floor laughing and singing!
But the wealth of great songs doesn't end there. In "Santa I'm Writing This Letter" featuring Bernie Williams, Dave Keys, and Bill Edwards, the singer implores Santa to use his sleigh to bring home his mom serving overseas in the military. Tom Dudley Blues Buddah puts his huge baritone to great use on the rockabilly "Santa Claus Is Comin Tonight" featuring guitar wiz Myles Mancuso. Speaking of guitar virtuosos, Kristen Capolino and Earl Slick light up the pulsing blues of "Presents," written and sung by Bill Edwards. "When I wake up on Christmas morning, just want to love you, that's all." Johnny Feds and Da Bluez Boyz suffer unmercifully from a "Bad Case of the Christmas Blues." Duchess Di and Dave Keyes offer up a delightful tribute to Eartha Kitt's "Santa Baby" -- "Twelve Santa Babies!"
Bill Edwards deserves so much credit, admiration, and thanks for producing this record. Additionally, Mr. Edwards has put together the Westchester All Stars Christmas for Wounded Veterans Concert on December 6, 2013 at the Tarrytown Music Hall featuring many of the artists heard on this album. And lastly, how about throwing in at least one Hanukkah tune next time!
©2013 Roger-Z