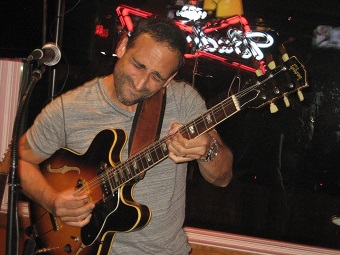 Chris Vitarello

"Blues Master Chris Vitarello Interview"
www.Chris-Vitarello.com

Interview by Roger Zee (04/24/17)
Roger Zee: When and how did you start on the guitar?
Chris Vitarello: I started with guitar around age fifteen. My best friend played in a band and I used to hang out in his basement and watch rehearsals. Eventually I wanted to join in. My dad always kept a guitar laying around the house and I used to open up the case and just stare at it. Finally, I started taking lessons.
Roger Zee: How did you get from Hard Rock and Heavy Metal to the Blues?
Chris Vitarello: I'll never forget the first time I heard Heavy Metal at age twelve. My friend used to make me tapes of Judas Priest, Metallica, and AC/DC -- the heaviest sounding stuff ever. When I first began guitar, I definitely learned metal. I also loved Rush. My band used to figure out their songs note for note. That's really how I learned how to play. One of my teachers in high school, Phil Dollard (he actually showed up at one of your Victor's Hawthorne jams), gave me a cassette tape of Stevie Ray Vaughan's "Texas flood" and some Eric Clapton, Duane Allman anthologies. I started really digging that stuff. Then I went to Berklee College of Music from 1991-1993. I saw Ronnie Earl at the House of Blues and he had my current boss, Bruce Katz, in the band! After seeing that show I knew I wanted to play Blues guitar. I really started to dig into some jazz, listening to Grant Green, Pat Martino, West Montgomery...
Roger Zee: You play a lot with organ trios. How did you hook up with Jeremy Baum and Bruce Katz?
Chris Vitarello: Jeremy Baum introduced me to the organ trio/soul jazz stuff. I met him on a recording session with Little Melvin Underwood. I connected with Bruce Katz through a friend. At that time, I played with organ-great Jimmy McGriff. Bruce had just moved to New York and wanted to meet me because I worked with McGriff. The rest is history. I've played with Bruce now for eleven years. I've gigged with Jeremy for almost twenty. They remain my favorite organ players.
Roger Zee: Talk about the Chris O'Leary band.
Chris Vitarello: Chris O'Leary used to work with Pat O'Shea and the El Dorado Kings. We always loved each other's playing and wanted to put a band together. Chris also worked with Levon Helm but had to stop due to voice issues. When that cleared up, he called me to do some gigs. When Chris began to share his originals with me, our group really started to move up quickly in the Blue's world. We've done four albums together. I love Chris and his style. He's a very innovative songwriter and one of my favorite musicians and friends.
Roger Zee: How did it feel to play and sing Allman Brothers' tunes with their drummer, Butch Trucks?
Chris Vitarello: Playing with Butch Trucks stands as one of the highlights of my life! What an awesome feeling to sing and play with an original Allman Brother the songs that I grew up with -- "Statesboro Blues," "Stand Back," "Elizabeth Reed," and "Jessica." Such a very cool and funny man. We had so much fun playing in the band and showing up to sold-out shows. I'm going to miss this real deal and all of the amazing group members.
Roger Zee: Describe your most notable and/or unusual gig.
Chris Vitarello: I guess my most notable gig, well it really wasn't a gig, I played at Butch Trucks's memorial. So surreal finding myself surrounded by all these music-business greats. The Freight Train band had to go on right after the Allman Brothers! I played my most unusual job with the Curtis Winchester Band at a private party where the people converted their house to a Middle-Eastern theme -- with rented camels and everything! So crazy.
Roger Zee: As a guitar teacher, what advice do you give your up-and-coming students?
Chris Vitarello: I advise my students to be versatile first and original second. If you want to make a living with music, you must be willing and able to play different things. Then it's very important to have your own unique voice. It's very hard to make it in this business as a star but it's not impossible. The more stuff you know and the more knowledge you have about different styles, the better off you'll be. I also recommend studying music and really becoming a virtuoso on your instrument.
Roger Zee: What did you dream of becoming when you grew up?
Chris Vitarello: I wanted to be a baseball player so badly. I played all the way up until a year after high school. I taught myself how to switch hit and play different positions. I worked on it quite a lot. Eventually I realized being a baseball player is even harder than being a successful musician!
©2017 Roger Zee