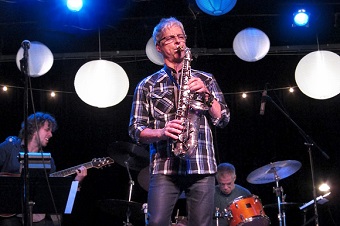 Charlie Lagond

"Sax Master Charlie Lagond Interview"
LagondMusic.org

Interview by Roger Zee (07/18/17)
Roger Zee: What instruments do you play?
Charlie Lagond: Iím primarily a woodwind player -- saxophone, clarinet, and flute. I also play piano and percussion as accompanying, auxiliary instruments.
Roger Zee: Which musicians first inspired you to pursue a career?
Charlie Lagond: As early as I can remember, music excited, captivated, inspired and delighted me. I first followed Pete Fountain, Stan Getz, and Maynard Ferguson. Growing up north of Philadelphia, Motown, James Brown, The Sounds of Philadelphia, and The Stylistics greatly influenced me as well. In high school, I discovered John Coltrane and Miles Davis. It wasnít until I thought about college that it occurred to me that I could make music my profession.
Roger Zee: Who did you study and train with?
Charlie Lagond: My first teacher, Parke Frankenfield, was a fantastically talented, local multi-instrumentalist, singer, composer, arranger, and entertainer from Easton, PA. I learned so much from my second instructor, Ken Brader Jr., a local woodwind specialist who would often let me sit in with his band. When I decided to go audition for music conservatories, he did a most unselfish thing -- something Iíll always remember and respect. He recommended that I study with a ďnameĒ clarinet teacher who played in the Philadelphia Orchestra, Jules Serpentini. Not that I didnít have more to learn from Ken, but he thought that it would give me an edge with the universities. Even though I was very into jazz and soul, most of the music colleges only offered classical majors. I ended up going to Eastman School of Music where I studied classical clarinet with Stanley Hasty and jazz with Chuck Mangione.
Roger Zee: Name some of the prominent artists with whom you've performed.
Charlie Lagond: Michael Jackson, The Jackson 5, Natalie Cole, Chuck Mangione, Chet Baker, Buddy Rich, Woody Herman, Bernard Purdie, Kid Creole and the Coconuts, The Spinners, and The Temptations to name a few.
Roger Zee: Describe your most notable and/or unusual gig.
Charlie Lagond: I played a command performance for Princess Di in London with Kid Creole and The Coconuts. The band also rocked a live, all-Europe broadcast from the Rockpalast in Essen, Germany 1982.
Roger Zee: What made you desire to open up the non-profit Lagond Music School?
Charlie Lagond: We went the not-for-profit route so that we could raise scholarship funds, offer music education, performance opportunities, and other music-related community events to a wide population.
Roger Zee: What advice do you give to your young musicians who want to turn professional?
Charlie Lagond: Diversity! Play authentically in many different styles of music with a basic repertoire in each. Develop many employable skills -- soloing, comping, reading, writing, music computer programs, multiple instruments and voice. Network in person as well as on the internet and social media. Get out and go to other people's shows. Take every gig offered you if you have the skills to do it. Always arrive on time. Never complain. And if you donít want to do the gig again, when asked to repeat, politely say youíre not available.
Roger Zee: What's the philosophy behind the Lagond Music Sunday night open jam sessions?
Charlie Lagond: We focus on the jammers. The house band performs only two songs before we bring up the jammers to play with the special guest artists and professional house band -- musicians with whom they might never otherwise get an opportunity to interact with. Then we open up additional, simultaneous jam rooms with the goal of getting jammers up as many times as possible so as to experience not only the guest artists but also network with new musicians of all levels.
Roger Zee: How do you see the future of the music business playing out?
Charlie Lagond: Writer/performance rights tracking and collection work great, but the payment percentages must increase to become fair. Right now itís abysmal. But live music rules!
©2017 Roger Zee