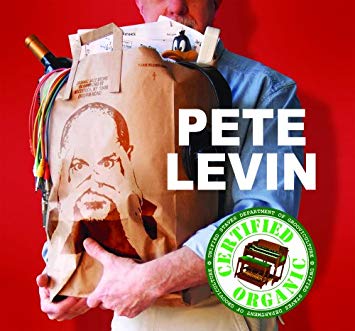 Pete Levin

"Certified Organic"
www.PeteLevin.com
CD Baby
CD review by Roger-Z (07/19/08)
Appeared in More Sugar, August 2008, P. 5B
It seems just yesterday I reviewed "Deacon Blues" by Pete Levin. In that six months time, Levin has recorded part II in his "back to the roots" series of organ trios (and quartets, and quintets). And since then, my appreciation for jazz has increased exponentially thanks to the phenomenal CD collection at the Greenwich, CT public library. I immersed myself in Coltrane and Miles. Which leaves me a little better prepared to handle this little baby.
Pete Levin made his reputation as a synth specialist playing with pop and jazz artists such as Paul Simon, Annie Lenox, Gill Evans, and John Scofield. The list goes on for a very long time and even includes little ole me. I had the pleasure of jamming with Levin on Marshall Tucker's "Can't You See" at a local Westchester jam. In 2007, Levin got the urge to revisit his roots and first love, the Hammond organ. Personally, I think he just loves all the back pain and agida that comes with transporting a large keyboard. That year, he put out an album of organ trio treatments of more contemporary tunes like The Beach Boy's "Sail on Sailor" and Steely Dan's "Deacon Blues." With "Certified Organic," Levin and gang further expand the form. As a matter of fact, you might just call this record a guitar fest as it features four different guitarists: John Cariddi (Steve Marcus, Peggy Lee), Mike DeMicco (Dave Brubeck, Jack DeJohnette), guitarist Jesse Gress (Todd Rundgren, Tony Levin Band), and legendary Joe Beck (Miles Davis, Gil Evans, Sergio Mendez). Other players include former Hot Tuna drummer Harvey Sorgen, saxophonist Erik Lawrence (Hipmotism, Levon Helm), and percussionists Ernie Colon & Ken Lovelett.
When I think of organ trios, Jimmy Smith and Jack McDuff most often come to mind. However, you won't find a shuffle on this record. A lot of funk, some swing, but no shuffles. Reminds me more of Soulive and Weather Report. Leaving out lyrics makes a lot of room for soloing. And this instrumental album features a lot of blowing, picking, and stroking -- all of it good. More than anything else, tone separates the guitarists from each other -- ranging from downright plinky to hard rock edgy. Of course, I prefer the latter. Speaking of tone, Levin must have spent a lot time pulling the organ tabs for the perfect sound. Because he found it and spread it all over the album.
The CD features a mix of some surprising covers and Levin originals. Prince's "The Question of You" features a snippet of Hendrix's "Voodoo Child." Standouts include Cole Porter's "Love For Sale," "Nana," and an explosive rendition of Jaco Pastorius' Weather Report classic, "Teen Town." The sax on Levin's "When I Was Young" throws the group firmly into the Miles Davis "In a Silent Way" camp.
In this day and age of stultifying corporate radio, Levin will undoubtedly tap into the growing demand for non "lite" instrumental jazz. This music swings, cooks, grooves, paints, and even oozes. The packaging by Emily Saaen absolutely delights -- harkening back to vintage Blue Note album covers. But only in America, marketing paradise, could an electric band proudly wear the label "organic!"
©2008 Roger-Z