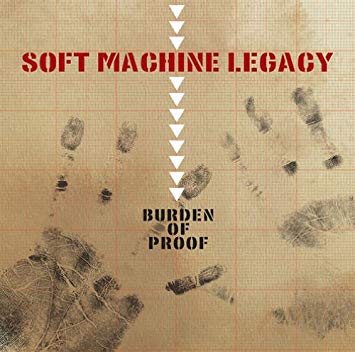 Soft Machine Legacy

"Burden of Proof"
www.JohnEtheridge.com/softmachinelegacy.com
MoonJune Records
CD review by Roger-Z (06/22/13)
In 1968, I remember asking my dad to buy me Soft Machine's self-titled, debut album. The bulk of the record proved more experimental than I expected. After all, I fell in love with the pop ballad, "A Certain Kind." But on the whole, I greatly enjoyed such tunes as "I Did It Again," "Save Yourself," "Lullaby Letter," and "Hope for Happiness." Over time, the band morphed from psychedelic pop into instrumental jazz/prog/rock. When the group re-formed in 2002 at the urging of MoonJune label owner, Leonardo Pavkovic, they chose to call themselves Soft Machine Legacy even though they owned the legal rights to the "Soft Machine" name. By staying one step removed, they hoped to remain fresh and invigorated. And that they have certainly done.
Though this music bears absolutely no resemblance to the original band, it nonetheless captivates and delights. The group consists of guitarist John Etheridge, bassist Roy Babbington, drummer John Marshall, and multi-instrumentalist Theo Travis on sax, flute and keys. They compose many of their modal tunes over intriguing, circular, bass lines that suddenly shift out of phase - much like a stairway in an M.C. Escher painting. Case in point, the album opener and title track, "Burden of Proof." After an extended electric keyboard intro, the drummer and bassist fall into a light shuffle. Except that it sounds like the bass player keeps switching keys. Subtle but powerful. "Kings and Queens" operates much in the same fashion. They take a four note bass line and constantly shift the tonal center while ethereal guitar floods the middle allowing the flute to float over the top. "Black and Crimson" builds on a more standard melody and Latin groove but then startles by changing time signatures when least expected. Guitarist John Etheridge and saxophonist Theo Travis manage to blow right through it!
Soft Machine Legacy covers a great deal of musical territory. "The Brief" takes a page from the Albert Ayler book. It starts off with a frenetic drum solo that soon combats a wild tenor sax. This transitions directly into "The Pump," a chugging, guitar-rocker ripped right from "Spinal Tap." Out of nowhere, the band slips in a jazz riff, and then immediately returns to the chug. John Etheridge manages to mix rock-god guitar tone, bends, and shakes with twelve-tone lines, even while trading licks with the sax. "Pie Chart" sounds like an outtake from the 1960's striptease, "Take It Off, Take It All Off" Noxema shaving creme commercial. This band invented atonal sex!
Soft Machine Legacy provides the perfect mash-up of jazz, prog, and rock. "The Burden of Proof" has been met. These cats can blow over just about any chord and tempo changes. And it never gets too heavy.
©2013 Roger-Z