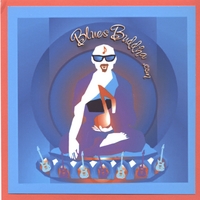 Blues Buddha

"Blues Buddha"
BluesBuddha.com
Myspace.com/Bluesbuddha
CD Baby
CD review by Roger-Z (06/16/07)
Appeared in More Sugar, July 2007, P. 16A
I was chatting between sets at the Monday night Cafe Rio jam in Mammaroneck, NY, when the band kicks in and this commanding, muscular, bull dog of a voice rips me from my conversation and rivets me in my seat. Pretty amazing considering I've heard "Hoochie Koochie Man" a million times. That's the power of Tommy Dudley, a.k.a the Blues Buddha. We talked for a short while and he handed me his EP, "Blues Buddha." Talk about coming prepared!
Like his live performance, this potent record hijacks the listener and never relents. Backed by top shelf NY studio musicians Benny Landa on guitar, Kenny Aaronson on bass, Paul Triff on drums, and Tommy Mandel on keys, Blues Buddha rocks the blues with a powerful urgency that absolutely enthralls the listener.
Picture a mix of the classic Johnny Winter, Bruce Springsteen, Animals, and Foghat and you get an idea of the power generated. These men play with vigor and authority. They transform aging, blues, work horses ("Boom Boom," "Bring It On Home," "I Hear You Knocking," "I Just Want To Make Love To You," and (Hoochie Koochie Man") into seething rock 'n roll. Start with Paul Triff laying down a no-nonsense classic rock beat. Add the throbbing bass of Kenny Aaronson. Layer on the thick-as-molasses keyboard of Tommy Mandel. Spike it with the imaginative, hard-rock guitar of Benny Landa. And place it all under the command of Tommy Dudley's ferocious vocals.
In essence, this group follows the formula laid out on the first Steppenwolf album. I remember the chills I got the first time I heard John Kay sing "Hoochie Koochie Man." You feel the thrill here. Classic rock and blues will live forever.
©2007 Roger-Z