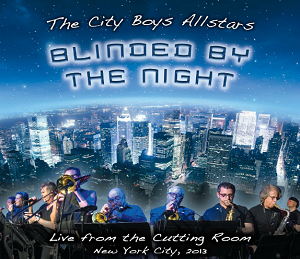 The City Boys Allstars

"Blinded by the Night"
www.TheCityBoyAllstars.com
CDBaby.com/Artist/TheCityBoysAllstars1
CD review by Roger-Z (10/05/14)

The City Boys Allstars follow in the hallowed footsteps of such New York City Bands as Dreams, Blood Sweat and Tears, and The Blues Brothers. They mix blues, soul, jazz, funk with horns, and a lot of sweat. Started by guitarist/leader Mike Merola at the close of 1988, they took a seventeen year break starting in 1997. But in true "Blues Brother" tradition, Mr. Merola put the band back together and recorded a live album at The Cutting Room in New York City on August 28, 2013. The thirteen piece band contains top New York Session players Lew Soloff (trumpet), Tony Kadleck (trumpet), Andy Snitzer (sax), "Blue Lou" Marini (sax), Tom "Bones" Malone (sax, trombone), Rob Clores (keys), Nick Saya (drums), Dan Sadownick (percussion), Angel Rissoff (vocals), Bill Kurz (vocals), Al MacDowell (bass), Horace Scott II (vocals). In the hiatus, two of the original members passed (singer Frankie Paris and bassist Keith Lambeth).
After only a few rehearsals, the group's chemistry overwhelmingly glued the pieces back together. With three different lead singers, dueling horn section, and eclectic, mostly original material, the live show takes on the appearance of an old time review. They kick off the night with Robbie Robertson's upbeat "Testimony," full of powerful horn punches and a gospel vocal by Bill Kurz. They then slip into the silken, instrumental funk of "Funky Peaches" featuring the guitar work of Mike Merola and a Lou Soloff trumpet solo. "Where Have You Been" taps into the desperate soul of Angel Rissoff who knows his woman has found someone new. "God Bless the Child" brings a new horn arrangement to this old chestnut along with a smooth-as-glass vocal by Horace Scott II. Vocalist Bill Kurz pays homage to original band member, Frankie Paris, with "Strung Out," a terrifying tale of one man's inexorable descent into junkie hell and ultimately, death.
The band continues their exploration of complex human emotions. Horace Scott II achingly sifts through the embers of a dying relationship in "The Vow." Vocalist Angel Rissoff takes a more upbeat look at life with "There's More Where That Came From" with riveting sax by "Blue Lou" Marini. Horace Scott II hits the R&B tip with the seductive "When You Needed Me." The Allstars close the record with the happy go-lucky, New Orleans inflected "City Boy Blues" showcasing the tasty guitar of Mike Merola.
I dare anyone to find a band anywhere that packs this much talent. The high end, pristine, live recording of "Blinded by the Night" buffs the energy of the grooves into a high sheen. So gratifying to know that real musicians still make real live music! And egos? No egos here. Just almost a wartime comradery that puts the group's welfare above the individual. Next up, The City Boys Allstars put the finishing touch on their next studio album, "Personal Thing." Can't wait!
©2014 Roger-Z