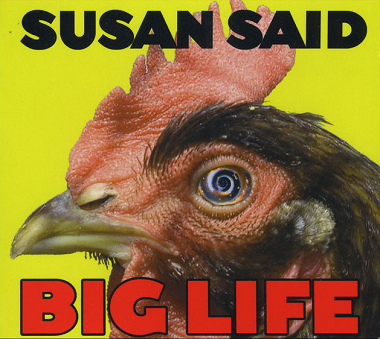 Susan Said

"Big Life"
www.SusanSaid.com
www.cdbaby.com/Artist/SusanSaid
CD review by Roger Zee (09/23/16)

Susan Said belts big bang Rock on "Big Life," their third CD for Bite Me Records. The musicians wield hefty hooks to spotlight the ugliness, savagery, and insanity that plague human relationships - drug addiction, alcoholism, homelessness, unfaithfulness, revenge, bad parenting, and even incest. Despair, loathing, and alienation permeate the record. Most of the characters bolt their situation as soon as they can. But a small few wallow in the mud. Susan Sed wrote all the lyrics and music. The killing band consists of Susan Sed (vocals, rhythm guitar), Matt Rocchio (bass), and Brendan Saadat (lead guitar). Matt Rocchio produced and Bruce Buchanan mixed the record lending it major label gloss.
Each song details a devastating situation. In the title track, "Big Life," a homeless person rails at a passerby, "You live inside a palace, I have to fight for space. I give the rats their names now. They come and carry me away." A teenager jumps into her "Car" and jacks the radio up to escape an angry father and a mother who drinks. It gets worse in "Daddy Will Keep You." "Daddy's coming round, I can hear the sound. Footsteps on the floor, hide behind the door. Daddy's very strong, does he know it's wrong. Try to close my eyes, better not to cry." "Politician" takes up where Cream left off. "Keep on talkin', you crazy politician. Keep on walkin', bullshit is your mission. And the universe is all you really want."
How and why some of these people hook up beats the Hell out of me! In "I Just Don't Care," Susan Sed tries to explain. "He's magical with the lying, He's got the lines and he's trying to get inside my head, to see what he can get. His conversation is mangled. His words deceitfully dangle right in front of me, but I won't believe." The wordless, singalong chorus to "Dirty Whiskey" belies the pain. "How can you treat me so dishonestly, when I saved your life many times? Hangin' around with your cool junkie friends. Gettin' high and going out of your mind." "You'll Cry Too" presents revenge as a palatable option. "You say I'll get over it soon. Nothing lasts too long. And nothing seems to affect the way you feel about things. Are you there at all? You'll cry too. You don't know it yet."
Susan Sed lays it on the line in a loud, clear voice. The band hammers it in. Sometimes I lie awake at night and think of similar situations. Then I have to turn the light on. But soon there will be nowhere to hide. Susan Said will rule the Modern Rock airwaves!
©2016 Roger Zee