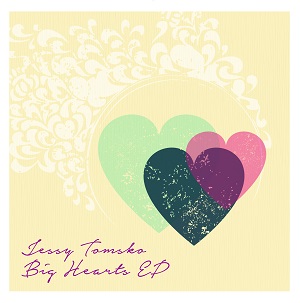 Jessy Tomsko

"Big Hearts EP"
www.JessyTomskoMusic.com
CDBaby.com/cd/JessTomsko1
CD review by Roger-Z (02/07/15)

I just can't resist Hallmark Channel original romance movies. The scripts generally involve two slightly damaged individuals who leave the city, return to their pastoral home town, fall in love, break up, and end up married. Who can resist a happy ending! The songs on "Big Hearts EP" by Jessy Tomsko would fit the soundtrack to any one of these pictures -- especially during the flashback and break-up scenes. Her achingly pure, Appalachian Spring voice shrouds her painful tales with a gossamer veil. The simple, laid-back production by Jessy Tomsko and Michael McCoy places Tomsko's voice up front and allows her original folk-like compositions to radiate. The band includes Jessy Tomsko (vocals, acoustic guitar), Ariel de la Protilla (bass), Anthony Taddeo (percussion, Micah Banner-Baine (violin), Dan Bailey (guitar, mandolin, vocals), and Peter Lam (vocals).
Jessy Tomsko's mysterious, brunette, pixie good-looks evokes an Irish Wood Sprite who has run afoul of a powerful witch and can now only offer up laments. In "Big Hearts," Tomsko holds the torch for a lover she unselfishly let go so he could pursue his future. In "Oak Trees, Tomsko dreams of a bitter sweet romance in Ireland. "I love him true. Soundly we'll sleep. Our dreams come from far. They fly 'cross the sea. And though we're bound eventually for long-departed memory, his bonny lass I'll always be." Tomsko shifts to outright blues on "Charleston," a lurid tale of infidelity and murder. "So no no, I know I'm gonna tell my God when I see His face that I think He would've done the same if He was in my place."
Hard times and loss figure prominently on "Big Hearts EP." In "Moments," Tomsko sings, "Do these moments come free, or have they only been loaned? When you're taking your leave, will they cost more than I own?" "Daddy Don't Cry" tells the story of a father who took a wrong turn and the daughter who loves him. "He says, 'It's my fault we're in these woods, and the night is falling fast. I swear I wanna get you to the other side, but I still can't find the path'. Well I have seen the future, daddy, and I know we'll get out alive. Chin up honey, like you always told me. Now I wanna see you smile. Daddy don't cry."
We can only hope that this Irish Wood Nymph breaks free of the spell that binds her and will find true, everlasting love -- just like in the Hallmark romance flicks. But then again, look at the world. Bad news sells!
©2015 Roger-Z