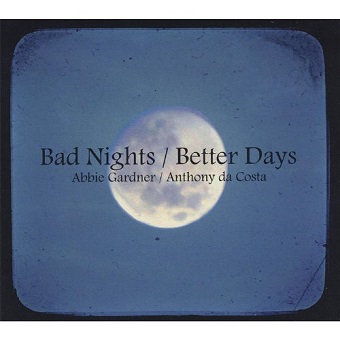 CD review by Roger-Z (08/16/08)
Appeared in More Sugar, September 2008, P. 25A
"Bad Nights/Better Days" by Abbie Gardner and Anthony da Costa features all the Sturm und Drang you'd find in a serious Broadway drama. The kind where people speak from the heart in ways you rarely hear in real life. Take the Gardner penned "Red Barn." "She has your touch and I have your clothes. If you're leaving baby, wish you'd just go... Every one of your hellos is a goodbye waiting to go. I miss you baby, can't you see. I miss you baby constantly." In "Down on My Knees," da Costa emotes pure despair. "Every time I hear that you're going back to him, I break, I am breaking. I don't even care, I don't care at all. So why am I shaking... Don't let me go. I am down on my knees." Gardner appeals to her lover in "Someday." "Don't hold me like that, so tight I can't breathe. I know what you want but you see what I mean. You have to let go if you want me to stay. When you hold me like that all you do is push me away." In "Crazy in Love," Gardner seeks real emotion from her boyfriend. "I wish you'd be jealous just this once. I wish you'd act crazy, so crazy in love. You're so calm and so cool, yeah, you're nobody's fool. I wish you'd be crazy in love. I wish you'd show up wherever I go. Tell me you love me, stop assuming I know. And drive through the rain just to tell me again. Say you're crazy, so crazy in love." And finally on a high note, or at least as high as these two go, da Costa sings "Let me die in your arms. Let me drown in your charms. Let's get married and buy ourselves a farm. Oh let me die in your arms."
This is a real record that talks to real people. Recorded in three intense days and nights, it features Abbie Gardner (vocals, dobro, lap steel, acoustic guitar, banjo), Anthony da Costa (vocals, acoustic and electric guitar, banjo, percussion), Emily Price (cello), Oliver Hill (violin). Mark Murphy (double bass), Mark Dann (electric bass), Steve Kirkman (vocals, national guitar), and Fred Gillen, Jr. (producer, vocals, percussion). There's no compression and no drums. But true feelings crystallize in the speakers. Gardner and da Costa sing to each other as if they've known each other for ever. I've never understood or appreciated the cello. But after listening to this record, especially "Someday," I'm a huge fan. The pathos and pain it expresses pierces my heart. Please don't tell me that was a violin!
"Bad Nights/Better Days" enfolds you like a mist filled evening out on the moors. Take a stroll and open yourself up to the highs and lows, ebb and flows of your inner life.
©2008 Roger-Z