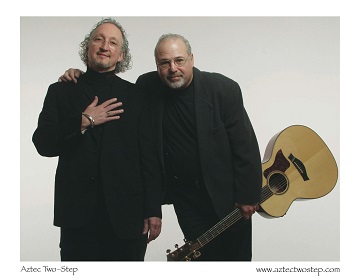 Aztec Two-Step

"Aztec Two-Step Interview"
www.AztecTwoStep.com

Interview by Roger Zee (06/20/17)
Roger Zee: Aztec Two-Step consists of Rex Fowler and Neal Shulman on guitars and vocals. Describe your chance meeting at an open mic in a Boston folk club in 1971.
Rex Fowler: I had been looking for an accompanist to back me up, but not necessarily a partner. Neal and I signed up last of about a dozen performers slated to play that Monday night. I heard Neal jamming just before it kicked off around 7PM and he really impressed so I paid close attention to his three-song set which also impressed. I paid him a compliment on my way to the stage. He hung around for my set and afterwards I engaged him in a conversation and mentioned that I had some shows lined up. How could he resist, LOL? So we rehearsed three times just before our first gig, a free Sunday afternoon concert series at The Nameless Coffee House in Cambridge, MA that was packed with over 200 college kids. We played a five-song set and literally blew the room away. A far cry from the golf applause I got when playing those same songs solo. There was no turning back after that!
Neal Shulman: One Monday, we both went to an open mic in a folk club in Boston. As a rule these things prove so time consuming and so discouraging that I hadn't gone to one in a while. But I wanted to find a collaborator, so I decided to make an evening of it. I played my three songs and announced that I wanted to start some kind of musical ensemble. Rex offered a compliment as I left the stage. After hearing his three original songs, we talked and agreed to get together. A week later after rehearsing for three days, we played our first gig. The palpable, positive audience response ensured the rest made history.
Roger Zee: How long did it take Aztec Two Step to work up tunes and land your first record deal?
Rex Fowler: We met on March 15th (The Ides of March) in 1971. We moved from Boston to NYC, Neal's home town, and finished mixing our self-titled debut album on Elektra Records in Los Angeles on March 15, 1972. Funny thing, that year felt like an eternity back then. But in hindsight, it really was quite an amazing feat!
Neal Shulman: After gigging around Boston as a duo for about two months, we decided to head to NYC. We played and rehearsed that whole time, and a year to the day after we met, we finished our first album for Elektra in LA.
Roger Zee: What's the division of labor in the duo?
Rex Fowler: Neal was a teenager, barely eighteen when we met. I was a "worldly" 24-yearold with a boatload of songs by comparison. That dynamic pretty much continues on to this day. But like George was to the Beatles, when Neal writes them, they have really mattered to our band's overall richness, diversity, and success. Neal is our band's lead guitarist and one of the very best in all of acoustic music.
Neal Shulman: Well, Rex has always written the lion's share of songs, but I also write, sometimes more, sometimes less. Usually the writer sings lead and leaves harmony to the other. I mostly play lead guitar, but Rex often composes songs around specific guitar licks. So in those cases, it's not so clear cut.
Roger Zee: Do you prefer to play with a full electric band or as acoustic duo or trio?
Rex Fowler: I would personally love playing with a full backing band whenever possible. But for practical and financial reasons, we work mainly as a trio (with bassist Fred Holman) and occasionally as a duo. However, we're releasing our ninth studio album this summer called "Naked" and will perform at City Winery in NYC on Thursday, August 31st with our awesome four-piece studio group plus three amazing backing vocalists. Hopefully our CD and this live concert will prove an awe inspiring musical experience for all involved -- including our audience!
Neal Shulman: Well, it's been quite a while since we've toured with a band, and I certainly love working as a duo or trio. I think playing with a group today would feel different from when we originally did it - apples and oranges! Let's see what the future holds.
Roger Zee: How has the demise of the major record labels and the music business in general affected your career?
Rex Fowler: Well we've survived with pure guile, DIY's and the support of our fan base which we established by recording on two major labels (Elektra and RCA Records) back in the Seventies. Thanks to our website (AztecTwoStep.com), Facebook, and our website's mailing lists we can reach out to our fans and hopefully attract new ones along the way. So thanks for this opportunity, Roger. It's greatly appreciated!
Neal Shulman: Our style of folk does not exactly dominate the top of the charts, so I kind of doubt that we'd sit on a major label now even if they were flourishing. It's been quite a while since we made the transition from major label artists to independents. And as the labels and the underlying technology has progressed, it has given us more and better tools to continue our recording and performing career. Now's probably the best time to pursue a career since the major record labels lost their dominance.
Roger Zee: Talk about your solo projects and how you balance them with Aztec Two-Step.
Rex Fowler: Over the years, I've pursued two other major projects with Neal's blessing. My first, a seven-piece band called The Nutopians (TheNutopians.com) , I formed with my dear friend Tom Dean of Devonsquare. We recorded two DIY albums that feature mainly acoustic oriented versions of John Lennon Beatles and solo year tunes; often merging two songs together (mashups) in a cohesive artistic way. We enjoyed a wonderful six-year run and got to perform for Yoko Ono who actually suggested our band's name. When that ended, sadly, I started a four-piece band called Rex and the Rockabilly Kings (RexAndTheRockabillyKings.com) that performs authentic versions of Elvis Aaron Presley's early genius years from 1954 through the early Sixties. FYI, Mr. Presley inspired both John Lennon and Keith Richards (and countless others) to start their own bands! Along with this amazing music, we often show my 2003 documentary film "200 Cadillacs" where I tracked down and interviewed a dozen or more recipients of Elvis' gift of choice, a shiny new Cadillac car! We remain quite active and recorded a live concert video at Daryl's House Club where we also perform annually on or around Elvis' birthday, January 8, 1935.
Neal Shulman: There's no issue for me. My off-time runs to non-musical endeavors.
Roger Zee: What's your favorite Aztec Two-Step album?
Rex Fowler: Ask the birth parent who's their favorite child and they'll most likely wax poetic about all of them. My mom bore me second of four and I spent a lifetime wrestling with the fact that a mother's supreme affection for their first remains a fait accompli. Therefore, not surprisingly, our first!
Neal Shulman: That's a very hard question. Certainly going to LA at nineteen seemed wonderful and the album we made so important and dear to my heart. But our more recent records have proved really interesting and fun to make. I mean, it's like I'm a different person than back then. But when all's said and done, for any number of reasons, it's still the first album. Ask me again in six months after our new CD comes out and we'll see where things stand.
©2017 Roger Zee