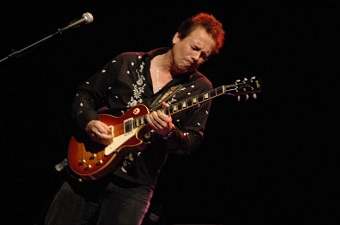 Arthur Neilson

"Blues Master Arthur Neilson Interview"
www.ArthurNeilson.com

Interview by Roger Zee (04/04/17)
Roger Zee: When did you discover the blues?
Arthur Neilson: As a teenager, I bought an acoustic guitar and learned how to finger pick like my Folk music inspirations Bob Dylan, Phil Ochs, and Gordon LightFoot. FM radio had just started to happen, and they would play all kinds of stuff, very different from top-forty AM radio. One night I heard "Blues Power" by Albert King, then "Lucille" by B.B. King. Oh my God! Goose bumps ran down my body. I never heard anything like this before. So I saved up my high school lunch money and bought a used Gibson ES335, just like BB King's. From that moment on, I was determined to play the Blues! I started buying every Blues record I could find, not easy growing up in Middle Village, Queens. So I traveled to Jamaica, Queens, a Black neighborhood, where I found a music shop called "Triboro Records" that specialized in Blues and Jazz -- Heaven! When I enrolled in Queens College, their library contained all kinds of music you could listen to with headphones. Someone had donated their Blues record collection. I immersed myself in Muddy Waters, Elmore James, Howlin Wolf, Sonny Boy Williamson, Buddy Guy, Otis Spann, Robert Johnson, Little Walter, Otis Rush, JB Hutto, and so many other great Blues artists. What an education! However, since I couldn't stop listening to all this great music, I ended up cutting a lot of my classes and dropping out of college.
Roger Zee: How did you join up with Cyndi Lauper and "Blue Angel?"
Arthur Neilson: I played in different Rock bands throughout the Seventies because no one really wanted to play Blues. One group member told me that I'd end up "playing Blues in my basement, not making a dime for the rest of my life!" Anyway, late in 1979, I gigged at a very cool club in NYC on 72nd street called "Tracks." After our set, three people from a band called "Blue Angel" approached me. They needed a guitarist and liked the way I played. I had performed some Rockabilly tunes that night and that defined "Blue Angel." A week later, I got together with them and started rehearsing. We signed to Polydor Records in early 1980 and released our first and only record that Fall. For the next couple of years, we toured America and parts of Europe. Although "Blue Angel" broke up in June of 1982, I stayed friends with everybody.
Roger Zee: How did your gig with Shemekia Copeland come about?
Arthur Neilson: In 1998, while playing bass for Big Ed Sullivan at the "Manny's Car Wash" Sunday night Blues Jam, Shemekia, (eighteen at the time) sat in with the house band. I had no idea who she was, but Shemekia acted very professional and sounded amazing. I then heard that she had just signed to Alligator Records and wanted to put a road band together. I later found out that she already knew me through Jimmy Vivino, an old friend, who played on and co-produced her first record, and who recommended me as a guitarist. Shemekia and her manager, John Hahn, came to see me play guitar a week later. After the first set, John said to me, the gig is yours if you want it. I said "Yes!". I have been with her for 19 years now! A great gig for sure.
Roger Zee: Talk about your three solo CD's produced by Popa Chubby. A new one coming soon?
Arthur Neilson: Around 1999, I placed three songs on a compilation CD called "Popa Chubby Presents NYC Blues" for Dixie Frog Records, based out of Paris, France. It did well enough that they asked me to record a solo album with Popa Chubby producing. Two more CDs followed. I toured France, Germany, Switzerland, and Belgium in between touring with Shemekia. I still maintain some wonderful fans over there. As far as a new record goes, I have a back log of material and I'm always writing. I hope to get back to the studio soon.
Roger Zee: Talk about playing bass at the Monday night Big Ed Sullivan Jam at the Red Lion in Greenwich Village, NY.
Arthur Neilson: I started playing bass at Big Ed Sullivan's Monday Night Blues Jam in December 1997 at Scotland Yard in Hoboken, NJ. After remaining at that location for many years, it moved around a bit until about five years ago when we wound up at The Red Lion on Bleecker St. I've played bass with Big Ed's Monday night Jam for over 20 years now!
Roger Zee: Describe your most notable and/or unusual gig.
Arthur Neilson: Not a gig, but a very special moment for me. For my birthday, my wife Karan took me to see Les Paul in Manhattan. He found out that I played with Shemekia and asked me to come up and sit in with the band. When I told him I didn't bring my guitar, he lent me his! How many people get to use Les Paul's "Les Paul?" After the show, he complimented my playing. When everyone had left, we sat and talked for about an hour! Needless to say I went home flying high that night.
Roger Zee: As a guitar teacher, what advice do you give your up-and-coming players?
Arthur Neilson: Learn how to play rhythm guitar. Ninety percent of guitar playing is rhythm and ten percent is soloing. Know how to support the singer or soloist. Don't follow fads. Play music that you love. It will show and the audience will appreciate that. Learn as much as possible, even if it doesn't pertain to your genre of music. It will help you create your own style. Never stop playing!
©2017 Roger Zee